Surfing the Coast of Baja
November 22 - Bahia Santa Maria, BCS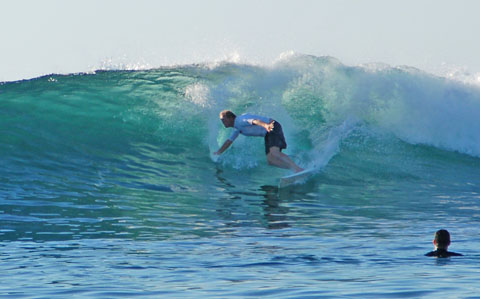 A few folks have written in to ask us what the surf was like during the Baja Ha-Ha. We didn't think it was too good around Turtle Bay, but when we got down to Bahia Santa Maria, there were about 10 guys riding the point the two mornings we were there. It wasn't great, but it wasn't bad either. In the top photo, that's Hill Branscomb of San Francisco, who sailed aboard Mark and Molly Rogers's Berkeley-based Island Packet 45 Southern Star, getting a nice ride in the first photo.
"Did you catch any of the surf up at Turtle Bay?" he asked us. After we said, "No," he told us that it had been fabulous. He paid a young Mexico guy to drive him to surf spots to the north and the south of the bay. "It was unbelievable point break stuff, 7-ft top-to-bottom waves that just peeled on and on. And there wasn't anybody else there."
West Coast surfers are so accustomed to cold water - even in the summer - that they just assumed they'd need a wetsuit at Bahia Santa Maria. It turned out to be pretty warm inside the neoprene, what with the water being 79 and the air even warmer.
- latitude / rs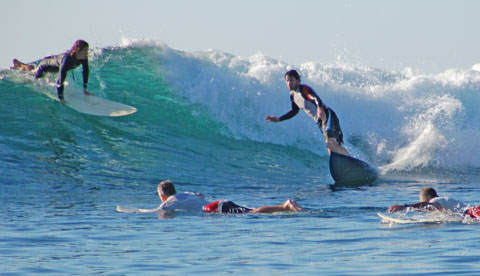 "Hey, where am I, Santa Cruz?"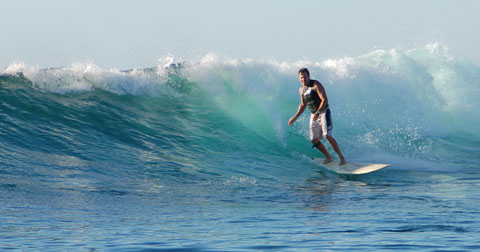 When the swell is big and the tide goes out, the point at Bahia Santa Maria becomes a dynamite wave.
Photos Latitude/Richard