Smith Leads Etchells Worlds
November 20 - Fremantle, Australia
Jud Smith of Marblehead, MA, leads the 2006 Audi Etchells Worlds after three races. With two firsts and a second, he holds a five-point lead over second-place Andy Beadsworth of Britain.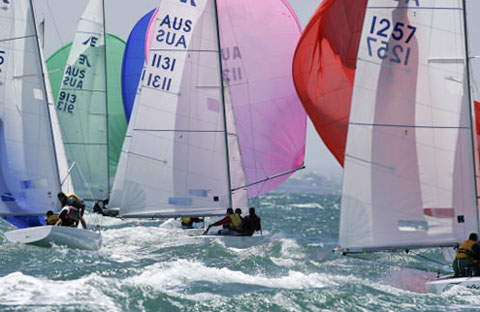 The "Fremantle Doctor," the famed summer sea breeze on Australia's west coast, made an inconsistent appearance in the regatta's first two days, but today gave the 70-boat fleet 20 knots of breeze and plenty of whitecaps. Or, as PRO Denis Thompson of New Zealand put it, "There were plenty of sheep in the paddock."

Wave action at the Etchells Worlds in Fremantle
Photos Courtesy Audi Etchells Worlds
Of the NorCal boats racing at the event, Craig Healy sits in 33rd after being scored over early in the second race. Andrew Whittome is in 49th, John Gilmour in 60th, and Kers Clausen in 61st. The 8-race series continues through Saturday.
- latitude / ss