Tsunami Spanks Crescent City
November 17 - Crescent City
An 8.1-magnitude earthquake off the Kuril Islands just north of Japan on Wednesday was immediately followed by a tsunami warning, sending thousands of Japanese residents racing for high ground. The waves that crashed ashore a few hours later measured a whopping 16-inches high.
Unfortunately, Crescent City, just south of the Oregon state line, didn't get off so easy. Residents thought the small surge that rolled through the harbor around noon - nine hours after the quake - was the worst they would see, so it came as a bit of a surprise when, two hours later, water started running out of the harbor at an alarming rate. But instead of the large wave onlookers feared, a 6-ft surge flowed the water back in like a massive river, a pattern that repeated for the next few hours, destroying two of the town's docks and severely damaging a third. Several boats broke loose from the docks but none sank. Luckily, no one was injured but damages are estimated at $700,000.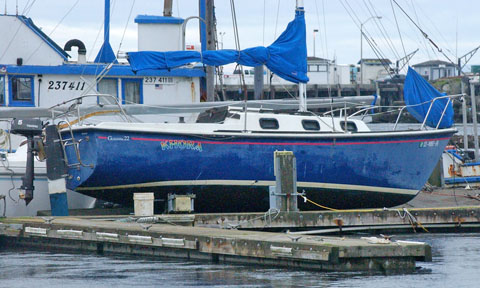 The Gloucester 22 Khora found itself perched atop a Crescent City dock after a tsunami surged through the harbor.
Similar surges were reported as far south as Port San Luis, tearing boats from their moorings but otherwise leaving the rest of the coast relatively unscathed.
- latitude / ld