The Birth of an Island
November 15 - Tonga
Not many people get to say they were present for the birth of a new island, but Fredrik Fransson and his uncle Hakan Larsson now have bragging rights. The pair were delivering Fransson's CBN 36-ft Maiken from Brisbane Marina in San Francisco to Brisbane, Australia, when they encountered a raft of pumice so dense their speed dropped from 7 knots to 1 knot.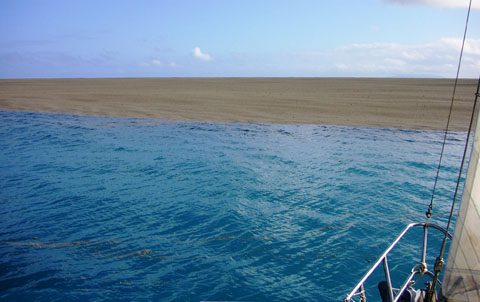 Rolling dunes of pumice can really wreck your speed, not to mention your gelcoat.
Being the curious types, Fransson and Larsson decided to check out an area of recent volcanic activity near Tonga and their curiosity paid off. On August 12, at about 18 degrees 15' 5" S 174 degrees 46' 3" W, they found a volcano had crested the surface of the ocean and was spewing smoke, ash and pumice.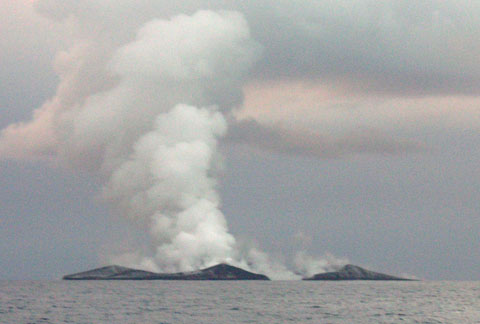 Fransson and Larsson witnessed the birth of this new volcanic island near the northern Tongan island group of Vava'u.
Above Photos Courtesy Maiken
Recent satellite photos show the island, which is about one mile in diameter, is still above water, but scientists say pumice islands in that area erode quickly.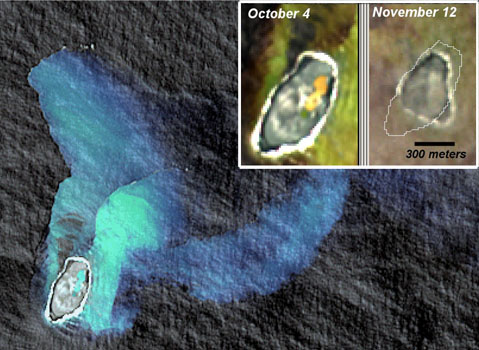 A satellite image of the new volcanic island shows hydrothermal activity, and, inset, how quickly it's eroding.
Satellite Photos Courtesy NOAA
We'll have a full report, and more amazing photos, in the December issue of Latitude 38.
- latitude/ld