Two Harbor's 'Super J' Saves Woman's Life in Cabo
November 13 - Cabo San Lucas, BCS
But first, a little background. For an off-season adventure, Seasonal Harbor Patrolmen Chad Powell and Scott Cincota from Two Harbors, Catalina Island, decided they would take an authentic Mexican panga from Catalina to Panama. Friends and fellow harbor patrolmen Brett Ruppert, and Jason 'Super J' Clarke from the dive shop, decided to join them for the Catalina to Puerto Vallarta portion of the trip.

The panga, before the trip, with friends at Two Harbors
As with most great adventures, this one started with a big problem. The guys hadn't even made it to Bird Rock, about a quarter of a mile from Two Harbors, when the 115-hp outboard that was to propel them to 2,500-mile distant Panama gave up the ghost. The guys do have a small mast and sail for the boat, but it wasn't going to get them, their surfboards, and their other gear to the Canal. Having only a modest cruising kitty, the four had to settle for a 50-hp outboard as a replacement. The only problem is that the new engine only powers the boat at about seven knots. "Cruising speed," is the way Powell describes it. This itself isn't a problem except in beam seas - such as the four encountered between San Carlos and Isla Cedros, about 300 miles south of San Diego. In order to maximize the stability of the boat in the cross seas, one guy would drive while the other three lay in the bottom center of the boat to provide as much human ballast as possible.
"I work in the dive shop and haven't been offshore that much," said Super J, "so I didn't know if we were going to make it or not. I was scared." But make it to Cabo they did, sometimes buying fuel from members of the Baja Ha-Ha fleet.
Despite being four young guys in a small boat, they all got along great. Powell says he knows why. "We're all solid guys." He's not bragging, because that's exactly what all their co-workers at Two Harbors say about them.
Since the Grand Poobah of the Ha-Ha has been friends with the guys from Two Harbors for a couple of years, he decided that they should become honorary members of the Ha-Ha. They were all given white Ha-Ha hats and invited to the festivities on the beach in Cabo. It turned out to be a good thing they were there.
Thanks to a depression off Acapulco, there was a fair size shorebreak pounding the beach in Cabo during the beach party. A lot of folks - several of whom were holding infants - were playing in these waves, but obviously clueless about the potential dangers. As a result, Super J and the Grand Poobah were standing knee-deep in the water unofficially monitoring the situation when a particularly large three-wave set came through. Bodies were scattered everywhere. Super J and the Poobah checked on the status of the infants first, of course, then simultaneously noticed a 20-ish woman not part of the group floundering badly in the surf about 50 feet away. She was panicked, disorientated, and seemed caught in some buoys and rope. Super J, "body by Budweiser," rushed down to the helpless woman and reached her just as she was being pummeled by yet another wave. He dragged her up the beach to safety and made sure she was all right.
We're here to tell you that although there were hundreds of people within 200 feet, had it not been for Super J, it's likely the woman would have drowned or been brain-damaged. Indeed, once the woman was reunited with her boyfriend, she clung to him and sobbed for about 20 minutes. She'd come that close to losing her life.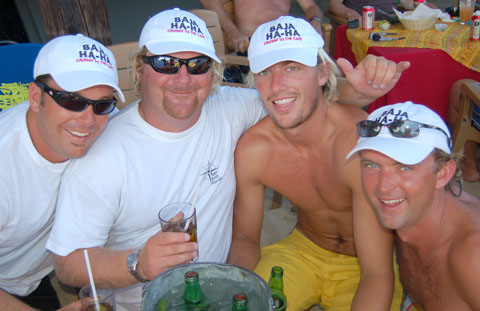 Scott, Super J, Brett, and Chad - at the Ha-Ha Beach party shortly after Super J saved a woman's life.
Photos Latitude/Richard
At the Ha-Ha awards ceremony the following night, Jerry Murphy of the San Diego-based Bristol Channel Cutter Destarte, who had been awarded a halo for saving some panga fishermen early in the event, came forward and placed the do-dad on Super J's head. It was funny, and it was the right thing to do. Well done, Super J!
- latitude / rs