The First Hawks Murder Trial Begins
November 10 - Santa Ana
The trial of 24-year-old Jennifer Deleon for the murder of Jackie and Thomas Hawks began this week with gut-wrenching testimony from one of the Hawks' alleged killers. Alonso Machain, who will stand trial himself next year, provided the court with an eyewitness account of what the prosecution claims took place aboard the Hawks' 55-ft trawler Well Deserved the day of their disappearance nearly two years ago.
Machain claimed that Skylar Deleon, Jennifer's husband and supposed mastermind behind the murder plot, pretended to be a buyer for Well Deserved and scheduled a trial run aboard the boat on November 6. Deleon abandoned a plan to murder the couple that day, Machian said, because Tom Hawks, a retired probation officer, was in much better physical condition than expected and Deleon felt a third person would be needed to subdue the older man. Machain also claims to have heard Deleon call his wife Jennifer and tell her to come to the boat with their 9-month-old baby to make the couple "feel more at ease."
On November 15, Machain recounted that he and Deleon picked up John Fitzgerald Kennedy on the way to the boat for another test sail. Once they were about 55 miles out, he said Deleon and Kennedy overpowered Tom Hawks in the salon while he cornered Jackie in the galley and pulled out his stun gun. "I struggled with her. She was fighting me."
Husband and wife were handcuffed and, after Jackie cried out "How could you do this to us?" Machain said he helped Deleon duct tape their eyes and mouths. He claims the couple were then made to sign and fingerprint transfer of title, as well as power of attorney and other documents, with the promise that they would be released if they cooperated. "She was shaking uncontrollably," Machain recalled. "She kept saying she wanted to see her grandchild." He then related how Tom tried to console his wife of 18 years. "I could see Mr. Hawks trying to reach over and hold her hand and comfort her."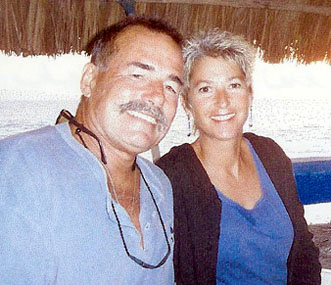 Tom and Jackie Hawks spent two years cruising California and Mexico aboard their 55-ft trawler Well Deserved and planned to move to Arizona to be closer to their new grandchild.
Photo Courtesy www.tomandjackiehawks.com

The Hawks were taken on deck where Machain said they were bound together with Tom facing Jackie's back, handcuffs still in place. As Deleon tried to tie an anchor to their feet, Machain said, Tom kicked him hard enough to send the alleged killer sprawling into a deck chair, bringing a swift and hard punch to the temple from Kennedy. Machain said he watched as Deleon finished tying the anchor to the Hawks and tossed it off the boat at the same moment Kennedy shoved them overboard.
Prosecutors are trying to prove that Jennifer Deleon, who they acknowledge was not on the boat on November 15, was fully aware of her husband's alleged plans to kill the Hawks, steal their boat and plunder their savings, and actively participated in its execution. They claim the Deleons were drowning in debt - over $87,000 worth - and saw a quick way to fast cash when they spotted Well Deserved's $460,000 listing in a magazine ad. Jennifer Deleon's lawyers claim she knew nothing of the murders until afterward, at which time she became so frightened of what her husband might do to her, she cooperated with him.
The trials of Skylar Deleon and John Kennedy are scheduled to start in January. Deleon is also awaiting trial in the murder of another man, as well as for soliciting the murder of his father and cousin who are potential witnesses in that case. We will continue to update 'Lectronic with news in this tragic case and will have a full report in the December issue of Latitude 38.
- latitude / ld