With Winters Like This, Who Needs Summer?
November 6 - San Francisco Bay
The 2006-2007 midwinter racing season kicked off over the weekend. Sure, the wind was light and the current strong. But that's what midwinter racing on the Bay is all about. More importantly, how many sailors around the country can say that they sailed in short sleeves during the first weekend in November?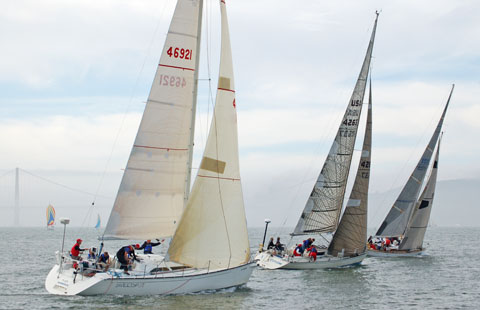 After a two-hour delayed start, Sweetspot, X-Dream and Yucca break free during Golden Gate YC's first midwinter race of the season.
On Saturday, racers at the Golden Gate YC Manuel Fagundes Seaweed Soup Regatta waited patiently for two hours before PRO Matt Jones decided it was as good as it was going to get. Jones sent boats around a temporary mark off Fort Mason, back to 'A' buoy off St. Francis YC, and to the finish. Short, sweet, and to the point.
Over in the East Bay, Melges 24s and J/24s lined up for the inaugural RegattaPRO Winter Keelboat Invitational Series. The conditions were the same on that side of the Bay but didn't stop PRO Jeff Zarwell from getting two races off for both fleets. Next month, he expects the Etchells fleet to join the fray as well.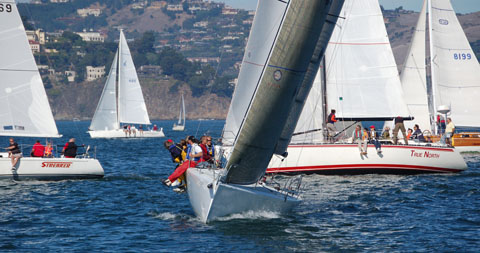 The crew of Racer X go for a hike on a beautiful Sunday afternoon.
Zarwell was out again on Sunday running the Sausalito YC Midwinter Series. There was a brief postponement while the westerly filled, but once it did, racers had ideal conditions for an afternoon sail.
Look for results in the December issue of Latitude 38.
- latitude / ss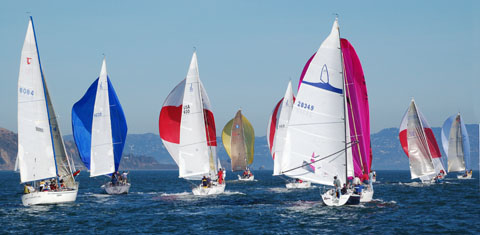 There was just enough wind to keep the chutes full for Sausalito YC's midwinter.
Photos Latitude/LaDonna