Ocean Racing Update
November 3 - Atlantic Ocean
There's been plenty of singlehanded action in the Atlantic this week, with racers in the Route du Rhum and Velux 5 Oceans continuing along on their respective race tracks.
In the Route du Rhum, the carnage is slowly mounting as five of the original 86 skippers have pulled out of the race from St. Malo, France, to Guadaloupe. Among the most recent victims, Didier Levillain aboard the 40-ft Frers IOR A Fond Contre la Spondylarthrtite was airlifted off his sinking boat by a Spanish helicopter 160 miles from Cape Finisterre. No word yet as to what caused the boat to take on so much water.
His abandonment was preceded by Charlie Capelle of the new Nigel Irens/Walter Greene-designed trimaran Switch.fr, which capsized midday yesterday. Capelle was picked up by competitor Philippe le Gros, and the two will continue on to Guadaloupe. And then there was veteran sailor and pre-race favorite Vincent Riou on PRB, who dismasted on Tuesday. Jeremie Beyou on the monohull Delta Dore retired so that he could be with his wife, who had a medical emergency.
Down but not out, Steve Ravussin aboard the trimaran Orange Project says he has no intention of quitting the race after he hit a sub-surface container yesterday. He has turned for the Azores, where he will meet his shore team and make repairs before returning to the race.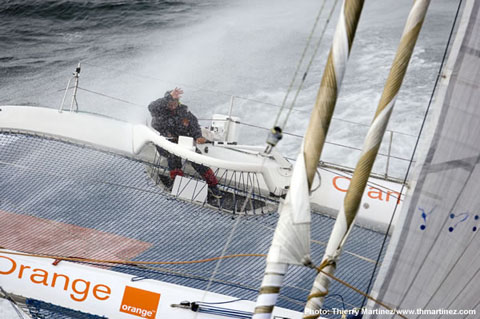 Photo Thierry Martinez/www.thmartinez.com
The remaining sailors continue their record-breaking pace as they pick their routes around the Azores. Race leader Lionel Lemonchois on the IMOCA multihull Gitana 11 covered 562.5 miles in the last 24 hours. (The current multihull 24-hour distance record is 585 miles, set by Yves Parlier in May.)
The only American skipper in this year's race, Kip Stone of Maine, continues his lead in Classe 2 aboard the Open 40 Artforms, 135 miles ahead of his closest competitor.
Meanwhile, things have calmed considerably for the seven sailors in the Velux 5 Oceans. You'll recall that the first few days of the race featured 70-knot winds that left only two sailors racing. Now that the winds have returned to a somewhat more normal pattern, racers have returned to the course and appear to have settled into a routine.
That said, the fleet continues to sort out various difficulties. Graham Dalton told race headquarters this morning that he has stopped racing and is motoring into Porto Santo, Madeira, so that he can fix a rudder problem. He now faces a 48-hour compulsory minimum stopover, likely to enable Sir Robin Knox-Johnston to overtake him again for fifth place.
Because of various repairs and starting delays due to the strong weather, the fleet is spread thin off the coast of Africa, with a 2000-mile split between Spain's Unai Basurko and race leader Bernard Stamm. Stamm is still nearly 8,800 miles away from the finish of leg one in Perth, so there's plenty of time for the fleet to consolidate.
- latitude / ss