Olympic Pre-Trials Wrap Up in Southern California
November 1 - Long Beach
The US Sailing Olympic and Paralympic Pre-Trials wrapped up Sunday with the completion of the men's and women's 470 and RS:X events in Long Beach. Taking the top spot in each class were Stuart McNay of Chestnut Hill, MA, and crew Graham Biehl of San Diego in the men's 470; Amanda Clark of Shelter Island, NY, and crew Sarah Mergenthaler of Harvey Cedars, NJ, in the women's 470; and Ben Barger of Tampa, FL, and Nancy Rios of Cocoa, FL. in the men's and women's RS:X windsurfer, respectively.
The Bay Area was represented by four-time Women's All-American and Belvedere resident Molly Carapiet. Sailing with crew Molly O'Bryan of Annapolis, she finished ninth of 12 boats. "We learned a ton over the course of the Pre-Trials," Carapiet reports. "Our coach Pease Glaser helped us enormously. We have made huge progress in many areas, but we still have a lot of holes to fill in our abilities." Next up for Team Molly is hard-core training before the 470 North Americans and the Rolex Miami Olympic Classes Regatta, both in January and both qualifying events for the US Sailing Team.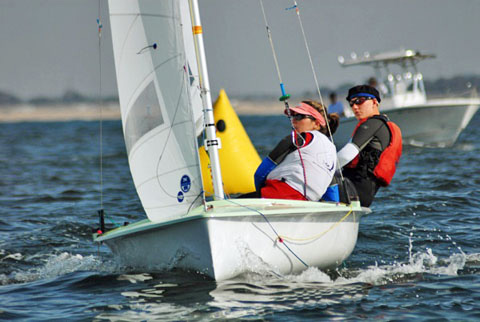 Team Molly: Molly Carapiet (skipper) and Molly O'Bryan
at last weekend's 470 Olympic Pre-Trials in Long Beach.
Photo Courtesy GTSphotos.com
Pre-Trial racing for the other Olympic classes took place earlier last month in San Diego, Newport Beach, and Newport, RI. A year from now, Olympic aspirants will reconvene at the same venues for formal Olympic and Paralympic Trials to select who will represent the U.S. in Qingdao in 2008.
- latitude / ss