Ainslie Wins Allianz Cup
October 30 - San Francisco


A leisurely finish to Friday morning's Pro-Am Regatta
Photo Latitude/Chris
America's Cup skipper and triple Olympic medalist Ben Ainslie left the Bay Area a slightly richer man after he won the Allianz Cup Presented by Oracle on Sunday and walked away with the $25,000 top prize. Ainslie defeated veteran match racer Ed Baird, 3-1, to win his first World Match Racing Tour event.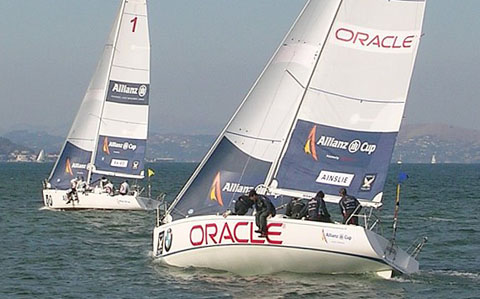 Ben Ainslie's team chases Baird in Sunday's action
Photo Kathy Longaker
Racing off the St. Francis YC in locally-chartered J/105s, the first three days of the event were plagued with light northerly winds and strong currents, challenging even the local heroes who had been invited to race. But by late Saturday, the wind had shifted back to the west and picked up a bit.
In the semi-finals on Saturday, Ainslie, sailing for Emirates Team New Zealand, defeated fellow Brit Ian Williams 3-1. Williams, the only non-Cup-affiliated sailor to make it to the final four, arrived in the Bay Area at the top of the match racing world championship rankings and with an important win at the Bermuda Gold Cup earlier this month under his belt. The other semi-final match-up put Baird, sailing for Alinghi, against Jesper Bank of United Internet Team Germany. Baird took both matches to advance to the final. Bank defeated Williams 2-0 in the petit-finals to place third.
Reigning match racing world champion Peter Gilmour, racing with locals Bill Colombo, Keith Love, and Sean Svendsen, finished in sixth place. The other local team, headed by J/105 guru Chris Perkins, started strong with a 2-0 record in Wednesday's round robin racing, but was eliminated by the end of the day.
The Allianz Cup is the only U.S. stop on the 2006 World Match Race Tour, and is likely the last time a number of America's Cup skippers will officially race each other before the Louis Vuitton Cup starts next spring in Valencia. In addition to Emirates Team New Zealand, Alinghi, and United Internet Team Germany, teams represented at this weekend's racing included BMW Oracle Racing (whose chief, Larry Ellison, drove the Oracle entry), Mascalzone Latino-Capitalia Team, and Team Shosholoza.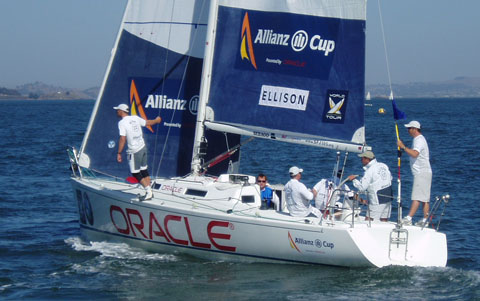 Larry Ellison and team prepare for a start on Friday afternoon.
Photo Latitude/Chris
For more photos and additional coverage, be sure to check out the December issue of Latitude 38, which will come out on November 30.
- latitude / ss