Two Polish Sailing Yachts Conquer the Northwest Passage
October 16 - Arctic Circle
The press office of the QNT Northwest Passage Jubilee reports that last month the crews of the Polish yachts Stary and Nekton completed the famed Northwest Passage, one of the most difficult sailing routes in the world. The Jubilee Voyage started from Greenland on August 15, and was dedicated to commemorate the 100th anniversary of pioneer Roald Amundsen's expedition. The Norwegian explorer became the first person to sail the entire length of the Northwest Passage in the years 1903-1906. Following the steps of Amundsen's route, the members of QNT Northwest Passage Jubilee Voyage 2006 also explored the land. They went climbing in the mountains of Greenland, went paragliding over the Arctic ice, visited the whale hunters' village on Cross Island, and dove on the wreckage of Amundsen's ship Maud.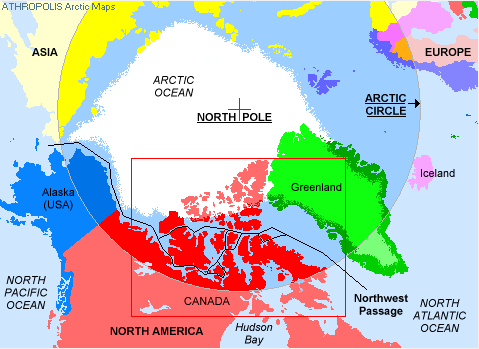 Graphic Courtesy Athropolis
The first port of call for the boats after completing the passage was Nome Harbor, Alaska, where they moored after many hours of exhausting sailing in the heavy weather conditions. After clearing and three days of rest, the crew set sail for Dutch Harbor and Vancouver, the latter 1,500 miles away.
"The jubilee sailing of the Northwest Passage has closed the main part of the expedition, however, it is not the end of the QNT Northwest Passage Jubilee Voyage 2006 expedition itself, the complete aim of which is to circumnavigate North America. From Vancouver, the expedition will continue on to Miami, and in the process will explore the San Blas Archipelago, then sail through the Panama Canal in order to reach the Darien Narrows, the so-called 'Pole of the Jungle'. When the sailors get to Colombia, they plan to explore the Sierra Nevada de Marta, the highest seaside peaks in the world."
Congratulations to these intrepid sailors, although we hope somebody points out they they will have to pass through the Panama Canal before they explore the San Blas Islands, as the latter are in the Caribbean Sea.
- latitude / rs