Masters Regatta
October 16 - San Francisco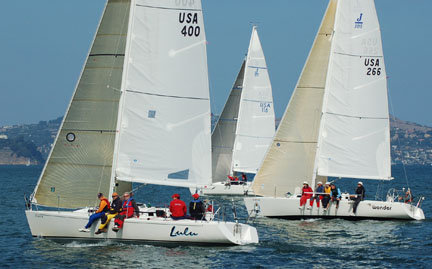 Much of the Masters Regatta was sailed in light breeze.
Photo Latitude/JR
Fall conditions prevailed for sailors in the Fremont Bank International Masters regatta, which was sailed off St. Francis YC in identical J/105s on October 13-15. Maybe it was the light breeze, maybe it was chill in the air, but whatever it was, New York YC Commodore George Hinman and his crew liked it. With tactician Chris Perkins aboard, Hinman sailed to a convincing 2,2,1,2,2 (9 point) victory over the nine-boat fleet. Dick Tillman took second with Masters Regatta founder Don Trask in third.
The rules for the Masters are simple: invited skippers must be at least 60 years of age and crew must be at least 45. This pool of talent is surprisingly deep (and growing deeper every year). Skippers this year included such names as Ron Holland, Malin Burnham and Ray Lotto, while crews included the likes of Stan Honey, Sally Honey, Russ Silvestri, John Andron, Peter Vessella, Chris Boome, Dave Hodges and Gordie Nash.


The 'old bold' skippers of the Masters Regatta
Photo Chris Ray/www.crayivp.com
1) George Hinman, 9 points; 2) Dick Tillman, 14; 3) Don Trask, 17; 4) Malin Burnham, 27; 5) Ray Lotto, 25; 6) John Scarborough, 29; 7) Ron Holland, 31; 8) Bruce Munro, 33; 9) Dave Irish, 38.
Complete results: www.stfyc.com.
- latitude / jr