Photos of the Day
October 13 - Oxnard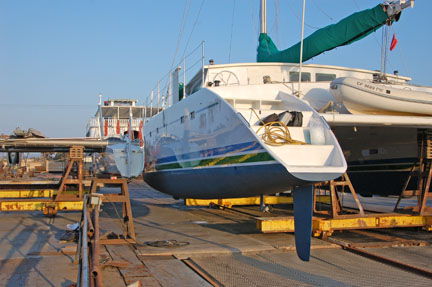 Today's Photo of the Day was taken last Friday at Channel Islands Boatyard in Oxnard, and shows the difference between a racing catamaran and a cruising catamaran. The cat on the left is Bill Gibb's 52-ft cat Afterburner, which has frequently bested the biggest and fastest monohulls boat-for-boat in races such as to King Harbor and Ensenada. She displaces 8,000 pounds. The cat on the right is Latitude's 63-ft Profligate, which displaces 36,000 pounds when empty.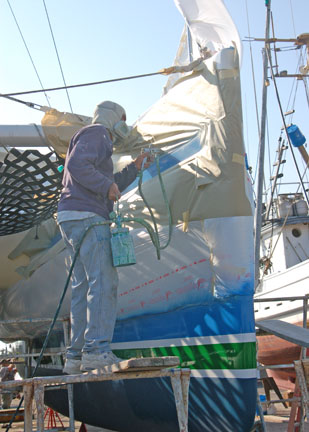 Channel Islands is one of the few places in California that can haul a cat with 30-ft of beam, so we pulled Profligate there and had her topsides painted by newlyweds Joe and Cheryl Slagle. It wasn't easy for them, as the distant Day wildfire, the biggest in California history, burned for weeks, covering the cat in ashes, making it impossible to paint. They did the last of the spraying at 4 p.m. on Friday, and since we had to be at Catalina with the boat Buccaneer Day the next afternoon, we gave the paint all of 90 minutes to dry before ordering the boat to be put back in the water. Fortunately, the boat just sat in a slip initially, as Joe and Cheryl had to spend the early evening, full moon rising behind them, replacing about 100 fasteners for the forward tramp. What a way to spend a honeymoon! What a way of busting their tails to help us out! A tip of our hat to Joe and Cheryl, and to the whole crew at Channel Islands Boatyard for hanging around long after quitting time to launch Profligate.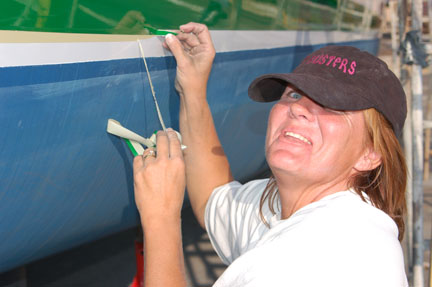 Photos Latitude/Richard
Speaking of multihulls, Antigua Sailing Week, the granddaddy of all wild and crazy sailing weeks in the tropics, has decided that for its 40th anniversary event next April, it will once again allow both racing and cruising multihulls to enter. Multihulls weren't initially allowed to race at Antigua, but the race committee finally relented in the early '80s, thanks to all the pestering on the part of D. Randy West, who later became our catamaran guru. Then, on the first or second race, D. Randy slammed his catamaran into the side of the 72-ft Mistress Quickly, which at the time was a megayacht. The result was that almost as soon as multihulls were allowed in, they were banned for 25 or so years. Having done six Antigua Sailing Weeks with our 71-ft ketch Big O, we've got a feeling we may be back for a seventh - but with a cat.
- latitude / rs