Top Four Teams Battle for Star Dominance on Final Day
October 6 - San Francisco Bay

Teams from 24 nations flew in to compete.
Photo Chris Ray/www.crayivp.com
Entering the final day of competition, New Zealanders Hamish Pepper and Carl Williams stand in first place (11 points) in the Wells Fargo Private Bank Star Worlds. But it's way too soon for them to be thinking about uncorking the celebratory champagne, as at least three other teams, from as many nations, are within striking distance of the lead in this hotly contested, 66-boat competition.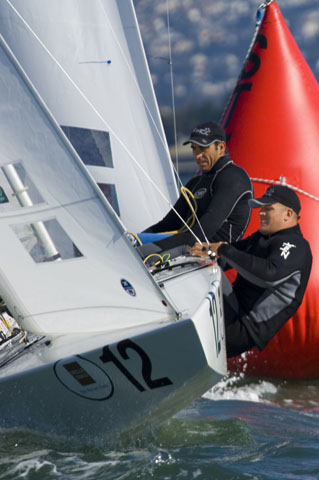 Leaders Hamish Pepper and Carl Williams
Photo Jan Pehrson/www.JanPehrson.com
Challenged all week by variable, and often shifting, breezes, in addition to substantial currents, the regatta has produced very intense competition. During the five races to date, eleven different teams have scored finishes in the top three. Brazilians Robert Scheidt and Bruno Prada currently hold second place (18 pts.), while Xavier Rohart and Pascal Rambeau of France lie in third (20 pts.). Americans Andy Horton and Brad Nichol are currently in fourth place (21 pts.), having briefly enjoyed a first place ranking at the end of Day Three.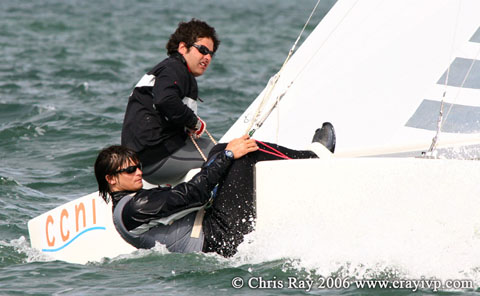 If you want abs of steel, this could be your sport. Vincente Gimeno and Luis Felipe Herman of Chile.
Photo Chris Ray/www.crayivp.com
Assuming that the weather gods cooperate, the event, hosted by the St. Francis YC in the Berkeley Circle area, will conclude today.
- latitude / aet