Sunroad Marina Honcho Says He Has Slips for Ha-Ha Boats in San Diego - and at a Discount!
October 4 - San Diego
"The only publications we make available at the Sunroad Marina office here on Harbor Island in San Diego are The Log and Latitude 38," reports Scott Mac Laggan of Sunroad Marina. "Latitude is very popular here in San Diego, and so they are always the first to go. Speaking of these two publications, The Log recently ran a front page article titled SoCal Slips Face Uncertain Future, which went into great detail about how impossible it is to find a slip in San Diego. And in the October Latitude, you wrote, 'It's easier to find a seven-dollar bill than it is a slip in San Diego.'

"Fact: Sunroad Marina, on the east end of Harbor Island in San Diego, just across the way from where the Ha-Ha Kick-Off party will be held, is not only the newest and best marina in San Diego, but we've never run out of slips for boats under 53-ft since we opened in '87.

"Fact: We already have several Ha-Ha boats in our marina on a temporary basis - just as we have had every year before the start of the Ha-Ha. We even offer Ha-Ha entries a tremendous discount over our standard temporary rates.
Latitude would really be doing its readers and the Ha-Ha participants a great service by getting this message out loud and clear."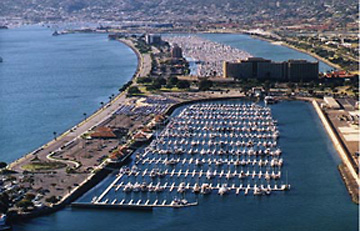 Photo Courtesy Sunroad Marina
We hope this gets the message out. The only downside of this news is that, as Mac Laggan will be the first to admit, Sunroad's standard prices, reflecting the quality of the facility, are somewhat higher than many cruisers are accustomed to paying. But for short term, it might make a lot of sense. At the very least, it might be worth giving him a call at (619) 574-0736. Or visit www.sdmarina.com
- latitude / rs