Bon Voyage BBQ a Blast
October 2 - Alameda
If you didn't make it to the Bon Voyage BBQ at Marina Village on Saturday, you missed a great time. Known for their frequent potlucks, the tenants at Gate 11 put together a cast-off party for cruisers heading to Mexico this year. Alan Weaver, Harbormaster at Marina Village, generously provided free beer and wine, while party-goers brought so much food the tables weren't the only things groaning.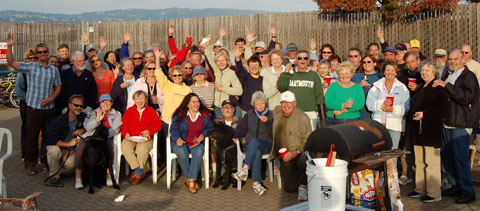 The Class of '06/07 wave goodbye.
Joining the party were veteran globe-girdlers Lin and Larry Pardey, Beth and Al Liggett, and Diana and Jim Jessie. It's not often - outside boat shows - that such an accomplished and well-known group of sailors is seen in one spot, so many party-goers took the opportunity to bend their collective ears.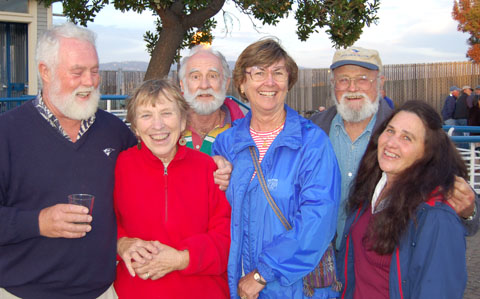 An exciting new episode of World Cruiser Wife Swap. Can you match the husband with the wife? From left, Larry Pardey, Diana Jessie, Al Liggett, Beth Liggett, Jim Jessie, and Lin Pardey.
Photos Latitude/LaDonna
But they weren't the only ones sharing pearls of wisdom. David and Betty Lou Walsman, accomplished cruisers who have sailed their Hunter 420 Decade Dance from San Diego to the Pacific Northwest and back again three times, gained some valuable tips from other Mexico vets for their first cruise down south. "Talking with all these folks changed my whole perspective on cruising Mexico," said Betty Lou. "I'm really excited!" We wish them, and the rest of the Class of 2006/07, bon voyage.
- latitude / ld