Fifty Miles Away from Lane Was Close Enough
September 20 - Mazatlan, Mexico
"Hurricane Lane was due west of Mazatlan sometime between 6 a.m. and 8 a.m. last Saturday morning," remember Alan and Margaret 'Mac' Mathison, and boat cat Maggie, of the Mazatlan Marina-based Effie. "The winds started up around midnight, and the heavy rains began around 2 a.m. Most of us here in Marina Mazatlan elected to stay on our boats and ride it out. I have to admit that there were times when I was a little nervous. The highest winds we were able to get a reading for were around 46 knots, but we didn't go outside much. I don't think we've ever seen so much rain. Actually, it was a downpour, not rain! But it was so nice to hear hear the voice of weatherman Don on Summer Passage during the weather portion of the Amigo Net. He told us we were probably at the peak of the storm, and that it would lessen as the day went on. He was right, of course, but boy did it feel good to hear a familiar, friendly voice telling us it wasn't going to get any worse! We continued to have heavy wind gusts for some time, and then it rained, and it rained, and it rained.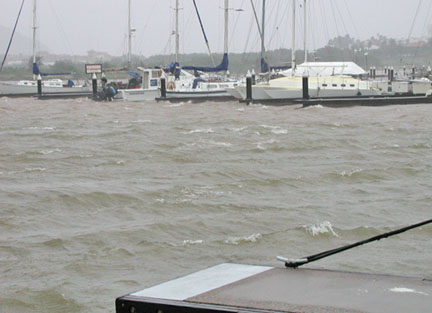 Photo Courtesy Effie
"On Sunday morning we headed out with Dennis and Susan of Two Can Play for some groceries and to see how the town of Mazatlan did during the storm. There were some flooded streets, lots of signs down, some damage to tarps and a couple of roofs, but other than that it looked fine. So far we've only had reports of some shredded tarps and a couple of torn sail covers in the marina, with all the boats seeming to be fine. The Marina Mazatlan staff were around to help, and were all very supportive. Antonio, the Harbor Master, had a meeting on Friday night before the hurricane to talk to all the cruisers to let us know we'd have their support and to answer our questions. It turned out not to be bad, but it's as close to the eye of a hurricane as we ever want to be."
It was the closest Mazatlan has gotten to being hit by a hurricane in 31 years.
- effie & latitude / rs