Photos of the Day: Rolex Big Boat Series
September 18 - San Francisco Bay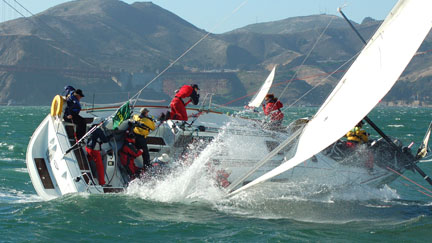 Phantom Mist goes sideways. They were one of many.
The 2006 Rolex Big Boat Series ended yesterday in spectacular manner as 90 boats in 8 divisions completed the four-day series with the traditional Bay tour race under sunny skies and moderate breeze. When the spray had settled, the final tallies for the 7-race, no-throwout series showed a few runaway wins, as well as a few hard-fought ones where victory was decided - literally - in a matter of inches.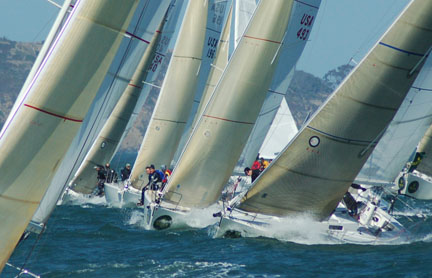 Charge of the J Brigade
The stats for this year will also include one dismasting, one crewman on injured reserve, a grounding right in front of the hosting St. Francis YC, countless shredded sails, countless broaches, multiple lead changes in some classes - in every race, glorious weather, and miles of smiles even aboard the tail-end boats. All in all, even without the 'glam' boats, this 'little' Big Boat Series was one of the most epic we can remember. Look for the complete story in our upcoming October issue. Until then, congratulations to the following class winners:
IRC A: Morpheus, Schumacher 50, Jim Gregory
IRC B: Scorpio, Wylie 42, John Siegel
IRC C: Tupelo Honey, Gerard Sheridan
Sydney 38: Copernicus, Michael and Kate Kennedy
J/120: Mr. Magoo, Steve Madeira
1D-35: Double Trouble, Andy Costello
Express 37: Stewball, Caleb Everett
J/105: Good Timin', Chris Perkins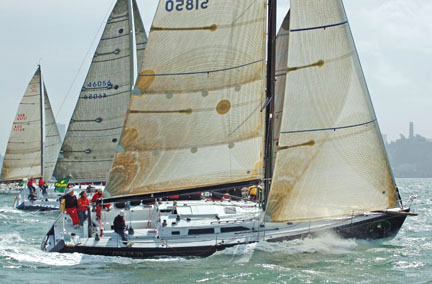 Morpheus on her way to winning IRC A.
Complete results can be found at www.stfyc.com.
- latitude / jr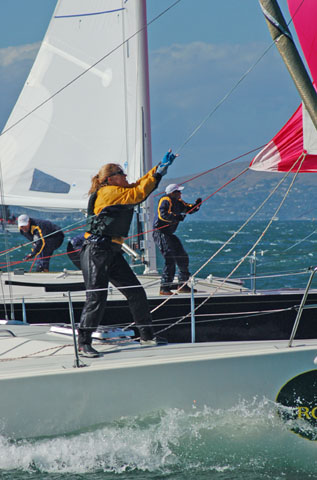 Doing the bow boogie. There were lots more 'bow babes' this year compared to the past.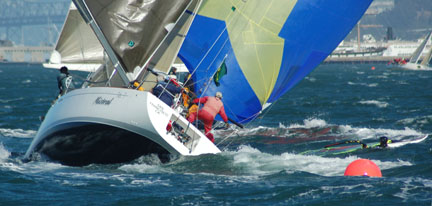 Dodging 'movable obstacles' was part of the fun.
Photos Latitude/JR