Photo of the Day
September 11 - Baja California
Today's Photo of the Day is of the Carl Fuller Family - Carl, wife Kary, and kids Sally, 10, Kappy, 8, and Seneca, 7 - sailing their Newport Beach-based Santa Cruz 50 Rocket during the second leg of last year's Baja Ha-Ha.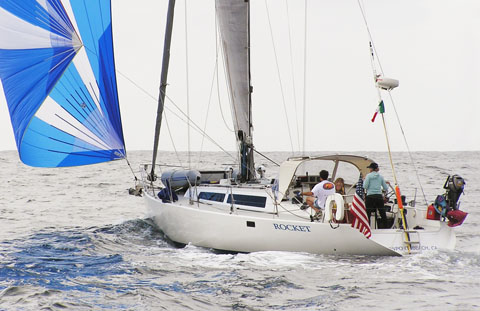 Photo Courtesy Carl Fuller
"Our family is so bummed that we won't be able to be part of the Ha-Ha again this year," they write, "but thought you might want a photo of us from last year to encourage others to sign up for this year. There are too many fine older racing boats - such as our Santa Cruz 50 - that stay tied to the docks when not racing. We put our Rocket to good use last year, both in the Ha-Ha and for nearly a year of cruising in Mexico with our three kids. Plus, we proved that such a program can be put together in as little as 40 days. We will definitely miss the wonderful life at sea this year, but will follow the Ha-Ha south through 'Lectronic Latitude and Latitude 38."
We appreciate your offer of help, but today is the deadline for paid entries to be received in the Ha-Ha mailbox - and there have been a lot of them. If as many are received today as over the weekend, the paid entry list will blow past the 160 mark. What happens if your entry doesn't reach the Ha-Ha mailbox by this afternoon?

"We like to be as accommodating as possible," says Ha-Ha Honcho Lauren Spindler, "and having gotten six requests for entry packs just today, I've decided that we'll be accepting paid entries - or at least checks for $299 along with your boat name - through Friday the 15th. But after that, there really will be a late penalty of one beer for every other boat in the fleet."
The Ha-Ha departs San Diego on October 30 for Cabo San Lucas, with stops at Turtle Bay and Bahia Santa Maria.
- latitude / rs