Hurricane John More Destructive than Reported
September 8 - La Paz and Puerto Escondido, Mexico
While the damage from last weekend's Hurricane John in Baja wasn't anywhere near as bad as it could have been, we've gotten reports that it hit La Paz harder than others have told us.
"Hurricane John wasn't all that gentle in La Paz, reports John Rodriguey of Mastra, "as I know of seven boats damaged in boatyards and several boats aground at the magote, and I watched two boats pull their dock cleats out at Marina Costa Baja. John arrived at about 2:00 Saturday morning, bringing winds close to 90 mph from the north. At about 3:15 a.m. the eye was directly over us, bringing a calm which allowed some re-tying of lines. At a little after 4:00 a.m. the wind turned from the southeast and roared again at close to 100 mph until about 6:00 a.m. All of the Sea side of Baja California Sur is a mess. I just drove from La Paz to Cabo and witnessed the after effects of this hurricane. Many towns are still without power and water, and road reconstruction I'm sure will take months. I know it wasn't as bad as some hurricanes, or even as bad as predicted earlier, but it was a scene I'd not like to repeat."
From Catharine Cooper on Mulege: "The town of Mulege about halfway up the east coast of Baja suffered major damage. The river rose 18 feet in six hours, and one American was killed. At 4:00 a.m. folks ran for their lives with only their shoes - no food, water, power, phones or anything for 36 hours. Right now rescue efforts are being cobbled together by Rotary Clubs, the Flying Samaritans, Flying Doctors, Baja Nomads, and so forth. Everybody's help is needed."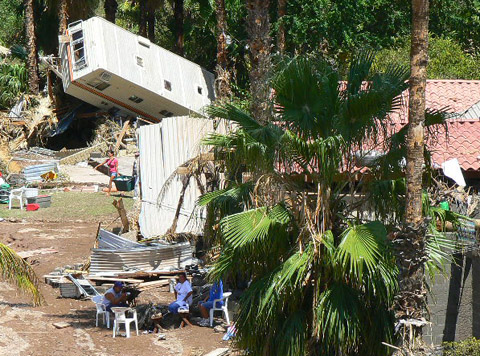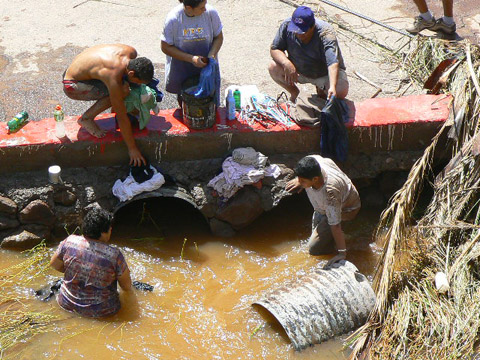 Damage in Mulege
Photos Catharine Cooper
From Vickey Plett of Inspiration at Sea at Marina Palmira in La Paz: "The dock we're on took most of the hit, but everyone took extra care, so we came through quite well.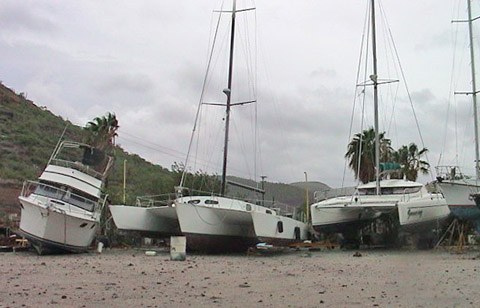 Three boats down in one yard, but it looks as if all may have escaped catastrophic damage.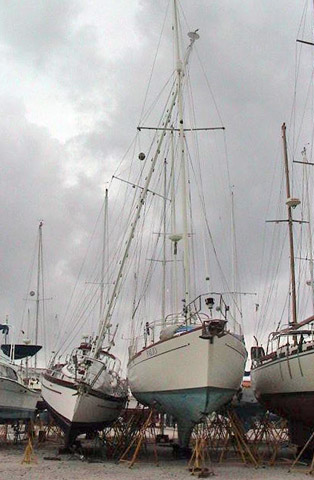 A nearby boat partially falls over, crossing rigs with Palio.
Photos Vickey Plett
Connie Sunlover reports from Puerto Escondido that "There is not a dirty boat in the harbor," as John brought 22 inches of rain. Tortuga was the only boat to go ashore, but was pulled off with little damage. Two other boats bumped, but with just minor damage to a solar panel. For photos of the much greater damage to roads and such, see the photos at www.hiddenportyachtclub.com.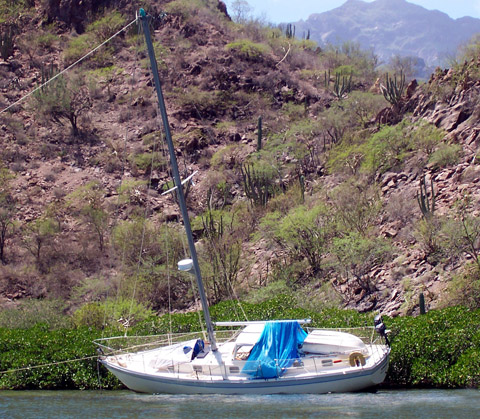 Tortuga temporarily ended up on the beach.
Photo Connie Sunlover
We regret if we gave anyone the wrong impression of the damage caused by Hurricane John. We tried to make it clear that "boating interests" suffered extremely slight damage, especially when compared to Marty and others. The devastation to roads and land-based communities was much more severe, and they can use all the help you can give them. On the other hand, Hurricane John will have almost no effect whatsoever on the cruising in Mexico this winter.
- latitude / rs