Skiffs Shred Bay - or Is It the Other Way Around?
August 25 - San Francisco Bay
Yesterday, the 18-ft Skiff International Regatta looked more like the track at Daytona after the lead car blows a tire and takes half the field into the wall. Of course, that makes it all the more exciting to watch.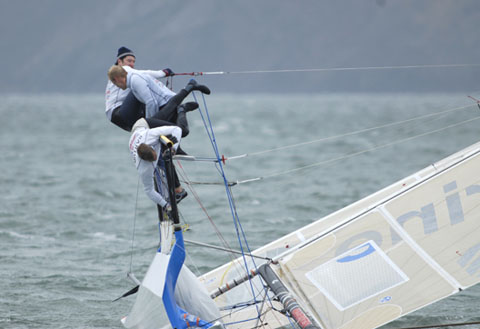 Blue Man Group works up a new routine.
"Keeping the stick in the air" seems to be the prevailing tactical consideration for all crews in the nuclear breeze of the last few afternoons, when winds have peaked over 30. Paul Allen, who trims the headsail for Shark Khan's Pegasus Black team, continues the thought process. "Once you get in the lead, if you stay upright you usually stay there." And the Pegasus Black team has been 'there' twice in this series, trading off the lead with Skiff veterans Howie Hamlin of Long Beach on Pegasus White and Australian John Winning on Yandoo. Hamlin presently leads the series, with Winning in second and Shark third. The 10-race series winds up tomorrow.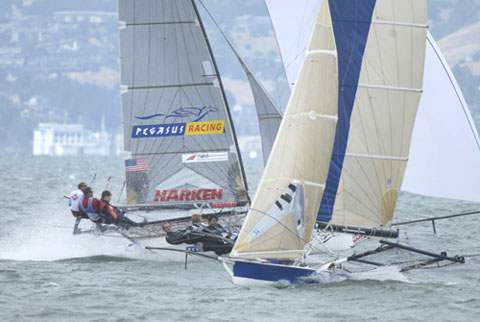 Howie Hamlin heads downwind, way ahead of Chad Frietas and the SkiffSailing.org boat.
The gas pedal on an 18 is the guy - or more accurately, the guy pulling the guy. Allen again: "If it gets scary, I pull the kite in to stall it and that slows the boat down a little. It feels like your arms have been pulled off by the end of the day, but I like being up front. It's a good view from up there."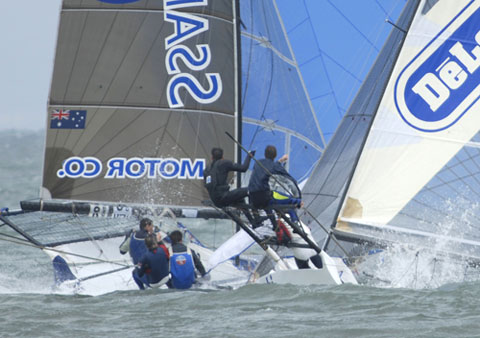 Yandoo and DeLonghi won the synchronized capsizing part of the program
Photos Erik Simonson / www.h2oshots.com
It's a pretty good view from anywhere you can see these wild and crazy boats. From land, Crissy Field is the epicenter - they actually set these lightweight boats up on the grass and carry them to the water. From a boat, just head out to the central Bay and look for low flying UFOs and the occasional sheet of spray indicating another crash. Just don't get too close.
- latitude / jr