A Tale of Two Cities
August 23 - Monte Carlo, Monaco, and Honolulu, HI
The accompanying map shows almost the entirety of the little 700-year old monarchy of Monaco, which we assume most people know is on the Mediterranean Sea surrounded by France near the border with Italy. If you look carefully, you'll see a yellow-striped area that marks the addition of a new breakwater. It may look small, but it actually added about 15% to the area of the whole country! What's more, it can accommodate a number of cruise ships or gigayachts at the same time, to say nothing of hundreds more smaller large yachts. Now that the breakwater has been built, there is major work going on to put in the facilities for the smaller boats.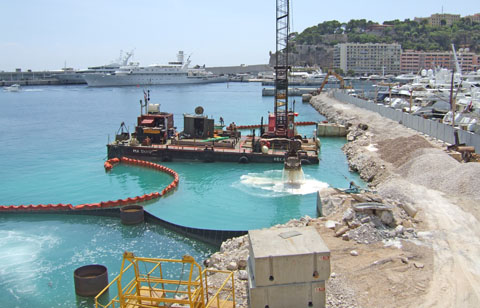 Photos Latitude/Richard
While in Monaco, which is one of the gems of the yacht harbors in the Med, we couldn't help but think about the Ala Wai Yacht Harbor in Honolulu, which should be the world class yacht harbor of the Pacific, but over the last several decades has become a world class disgrace. It shows what a difference there can be when someone dynamic like Prince Albert and the Grimaldi Family are in charge and create jobs, fun, and wealth, as opposed to the legislators and bureaucrats of Hawaii, who seem to be stuck in a 1950s time warp.
For those who would argue that developments such as those at Monaco are just for the rich, while the Ala Wai is for the enjoyment of everyone, nothing could be further from the truth. Thousands of people each day have a blast in Monaco, and don't even have to spend a cent, because it's such a happening place. The Ala Wai, on the other hand, is about the deadest yacht harbor in the world for its size, and generates very little in the way of fun, jobs, or even access to the ocean. The only exceptions - and they are major ones - are the Hawaii and Waikiki YCs.
- latitude / rs