Holy Biodiesel, Batman!
August 18 - San Francisco Bay
Looking much like she'd sprung from the pages of a Batman comicbook, the revolutionary power vessel Earthrace arrived in the Bay from Seattle Wednesday amid a shower of salty spray.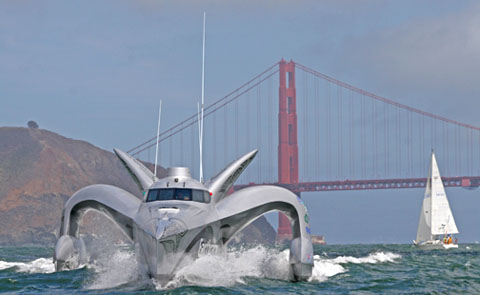 "What the heck. . .?" Earthrace enters the Bay.
Photo Bruna / Water-Wizards
As reported Monday, the 78-ft carbon and Kevlar vessel is making a brief port stop here during her around-the-world tour, which is meant to elevate awareness of alternative fuel technology. Earthrace is propelled by twin 540hp diesels which burn an 80/20 mix of biodiesel. Her wave-piercing design allows her to cruise at 45 knots.
The public is encouraged to check her out at Pier 39 Friday through Sunday after 11 a.m. She's also slated to make an appearance at McCovey Cove during Friday night's ball game. Although San Francisco is the first city in the nation to mandate use of biofuel in all city vehicles, the mainstream media here has been all but oblivious to the New Zealand-based Earthrace effort. Perhaps the ball game stunt will get their attention! (For further info, see www.earthrace.net.)
- latitude / aet