Beth Leonard to Speak at St. Francis YC
August 14 - San Francisco Bay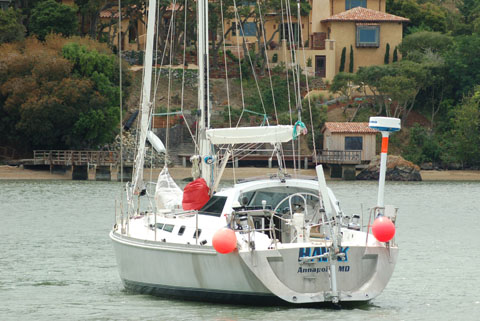 A meticulously outfitted and maintained globe-girdler peacefully anchored in Paradise Cove
One thing we love about sailing on San Francisco Bay is meeting cruisers who pass through the area. A few days ago, we had the pleasure of having tea with Beth Leonard and Evans Starzinger in Paradise Cove aboard their custom 47-ft Van de Stadt Hawk. Former "Type A" corporate consultants, the pair have circumnavigated twice in the past 15 years, logging more than 90,000 miles, and are well known in cruising circles from Beth's many articles in sailing magazines as well as her three books: The Voyager's Handbook (its second edition will be released this fall), Following Seas, and the upcoming Blue Horizons. They'll be in the area until the end of the month when they continue south on their way to Chile.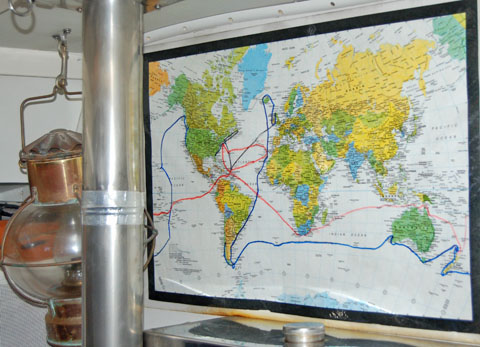 A map on Hawk's bulkhead shows the course of their travels, first aboard their previous boat Silk (red) and then on Hawk (blue).
In the meantime, Bay Area sailors have two chances to see them speak. You can catch them this Wednesday at St. Francis YC's Yachtsmen's Luncheon, where they will talk about "trading the fast-track and executive suites for round the world voyages of personal discovery." For more details, contact the office at (415) 563-6363. For those of you who don't know, St. Francis hosts a speaker luncheon for yacht club members (any yacht club, not just St. Francis) every Wednesday at noon, featuring top notch speakers and terrific food - all for a mere $12. If you can't make it Wednesday, you can also see them at San Francisco YC on August 23. Call (415) 435-9133 for more info.
- latitude / lb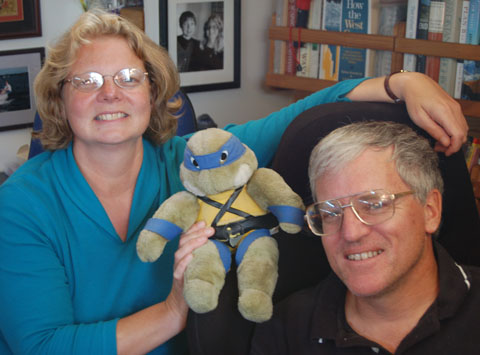 Beth Leonard and Evans Starzinger pose aboard Hawk with their intrepid twice-around-the-world crew Leonardo.
Photos Latitude/LaDonna