Photos of the Day: McNish Classic
August 11 - Oxnard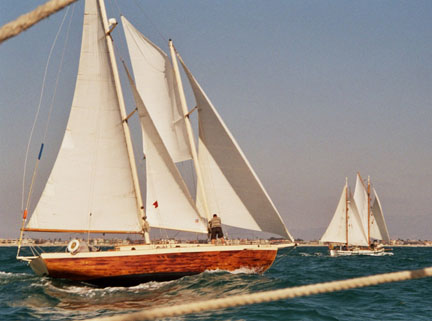 The lovely Witchcraft, which got third in Schooners
Photo Ariane Paul
SoCal's McNish Classic, held out of Pacific Corinthian YC in Channel Islands Harbor, features boats designed before 1952 ranging in size from 17-ft to 82-ft. This year's 29th running, held on August 5, saw winds starting light at 12 knots building to 18 by the finish. And 29 boats finished the 17-mile course, picked to favor the sailing style of traditional styled wooden boats
NorCal's Ariane Paul of the Master Mariners Benevolent Association (MMBA) made the trek south to join the 71-ft Dauntless, skippered by San Diegan Paul Plotts, which took first place in Schooner Class. San Francisco sailors may remember Latitude-sponsored Dauntless's runs in the Master Mariners Regatta here in 2006 and 2002.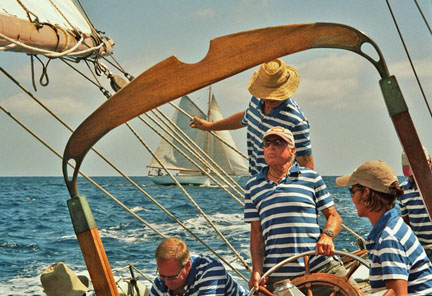 Onboard Schooner Division winner Dauntless
Photo Ariane Paul
Dan Israel of Woodland Hills, skippering his 30-ft cutter Silvan, won the Strathmore Cup (Overall Winner), as well as the Sloops & Cutters A division. Israel needed every bit of sailing skill and sailor's luck because it was a drag race as Elusive II, sailed by Don Greene of Ventura, finished a mere three seconds behind Silvan. Israel also won his weight in Mumm's Champagne - five cases full.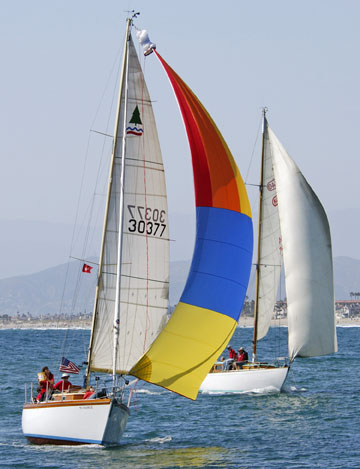 Silvan and Elusive II battle it out in Sloops & Cutters A.
Photo Louise Ann Noeth
"Had I known there were five cases of champagne in the offing," remarked Israel, "I would have sailed faster! The first two marks were no problem, but we had to fight it out with Elusive II all the way to the finish line even though they had lost their steering at the start forcing them to use a tiller. We must have done everything right!"
Other trophy winners were:
BEST ELAPSED TIME, and KETCHES - Miramar / Paul Scripps / San Diego
YAWLS - Cheerio II / Dick McNish / Somis
SLOOPS & CUTTERS B - Sally / C.F. Koehler / San Diego
LAST TO FINISH - Heron / Julie Gombert / San Pedro
- louise ann noeth & latitude / cw