A Passel of Cruising Kids
August 7 - French Polynesia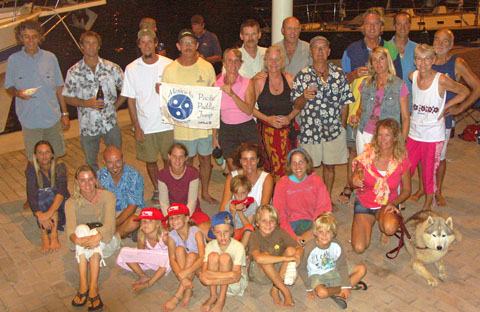 Photo Courtesy Blue Sky
Check out all the cruising kids who are going to play hooky - or be home-schooled - out in French Polynesia this year!
Having completed the 3,000-mile voyage from mainland Mexico to Polynesia, members of the Puddle Jump Class of 2006 are now living the good life in the Tahitian islands. This shot was snapped last month by Jim and Emma Mather of the Redondo Beach-based Down East 45 Blue Sky during a waterside barbecue. Pictured are crews from Lawur, Blue Sky, New Dawn, Neriad, Kohilo, Kubuki, Adiamo, Cheers, Spirit of Assy and Verena.
As this shot indicates, when you share an experience as challenging as crossing the Pacific, you can't help but bond with a passel of new friends. And often those friendships last for decades.
- latitude / aet