Photo of the Day: Maltese Falcon
August 4 - Viareggio, Italy

Today's Photo of the Day is of Tom Perkins' recently-launched Maltese Falcon sailing past the Perini Navi Shipyard in Italy at what Perkins estimates to be about 13 knots. He doesn't know for sure, because he was back in California when the photo was taken. "If I'd been aboard," he says, "I might not have let the crew put the rail under in that gust!" The boat is powered, of course, by the unique Dynarig, in which 15 square sails are set on three unstayed rotating masts.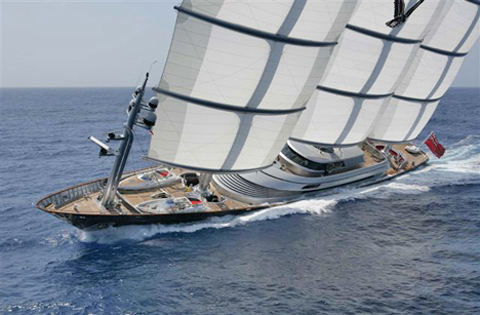 Photo Courtesy Perini Navi
Later in the day, while between the Straits of Bonifacio that separates Corsica and Sardinia, Falcon hit 18.3 knots without much sail up. "The crew is waiting for me to return," says Perkins, "to use the check stays and then shoot for the 20-knot barrier for the first time."

The amazing thing about this photograph, taken by Giuliano Sargentini for Perini Navi, is how nimble the boat looks - for being 289-ft long and displacing 1,240 tons! She is, you'll remember, the largest privately-owned sailing yacht in the world. Falcon is available for charter at 335,000 euros a week, but if you were thinking about New Year's in the Caribbean, she's already booked for that popular time period
- latitude / rs