Photos of the Day
August 17 - Bahia Santa Maria, BCS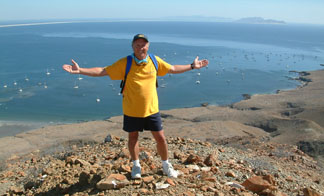 Today's Photo of the Day is of 'Banjo' Andy Turpin, Assistant Poobah of the Baja Ha-Ha, feeling like he's sitting (or standing) on top of the world. Why? Because it's early November, and he's luxuriating in the warmth of tropical Mexico, with the third and final leg of the Ha-Ha awaiting him the next day, which he'll sail in company with all the great folks on all the boats seen in the background.
Are you sick of cold and gray Novembers in California? Would you like to get Turpin's I'm-so-damn-happy-to-be-alive feeling? Could your life use a little injection of adventure? If so, you might think about getting your entry in for October 31's Baja Ha-Ha Rally from San Diego to Cabo San Lucas, with stops at Turtle Bay and Bahia Santa Maria. The last day to sign up is September 11. You can get an entry pack by sending a check for $18, along with a self-addressed 9x12 envelope, to Baja Ha-Ha, Inc., 21 Apollo Road, Tiburon CA 94920.
Here's a couple of more photos that might whet your appetite: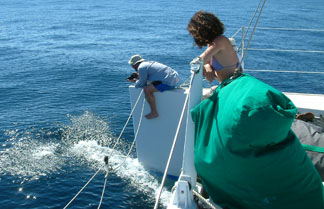 If you think you might enjoy sailing on warm blue waters with dolphins playing under the bow, who knows, the Ha-Ha might be something you'd like.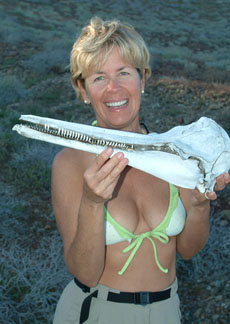 Thanks to the stops at Turtle Bay and Bahia Santa Maria, there will be plenty of opportunities to go ashore to meet hundreds of other cruisers - but also to hike and explore. You might even find a couple of dolphin skeletons.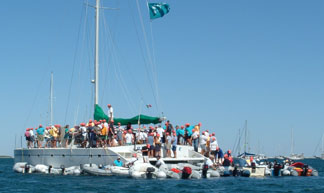 While drinking plays a very minor role in the Ha-Ha, yes, there will be another Pusser's Rum tasting party for the skippers in Bahia Santa Maria, and yes, everyone will get souvenir Pusser's hats. But this year the party will probably be ashore rather than on Profligate again.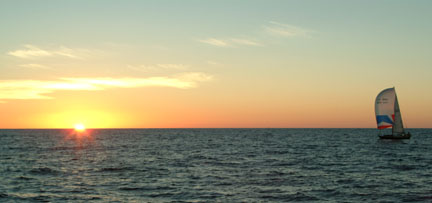 Dawn landfalls in the tropics are experiences you remember all your life.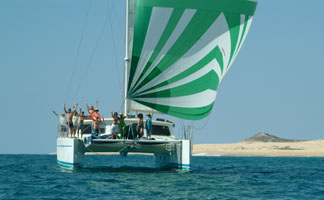 Everyone on Profligate - the mother ship again this year - hopes to see you on this year's Ha-Ha! This shot was taken while rounding Cabo Falso just a couple of miles from Cabo San Lucas.
Photos Latitude Archives
As the Ha-Ha sign-up deadline approaches, Ha-Ha Honcho Lauren Spindler reports getting three or four requests for entry packets a day. The first 25 entries were listed on July 8. Here are entries #26-73:

| | | | | |
| --- | --- | --- | --- | --- |
| 26 | Bingo | CF37 | M. DeMeritt & Bryan Maher | Hermosa Beach, CA |
| 27 | Beltane | Halberg-Rassy 39 | Steven Hannon | Newport, OR |
| 28 | Windarra | Roberts 44 | Steve Bergo | San Diego, CA |
| 29 | Gone Again | J/42 | Alex Schmid & Tina Hogan | Macatawa, MI |
| 30 | Linda | Bounty II | Stephen & Linda Maggart | Elephant Butte, NM |
| 31 | Yemonja | Island Packet 38 | Mike Araneda | San Francisco, CA |
| 32 | Charissa | Liberty 458 | Tom Jones | San Francisco, CA |
| 33 | Orion | Pacific Seacraft 37 | Jay Hall | Punta Gorda, FL |
| 34 | Scarlet | Catalina 47 | Rick & Marlene Bartlett | Phoenix, AZ |
| 35 | Night Flight | Hylas 46 | Ann Michael McDougall | San Francisco, CA |
| 36 | Intuition | C&C 39 XL | Ron Holbrook | Tacoma, WA |
| 37 | Bronco | Morgan O/I 41 | Nels Torberson | Alameda, CA |
| 38 | Wind Chaser | Beneteau 42 | Harry & Judy McKean | San Diego, CA |
| 39 | Aquila | Hylas 49 | Michael & Linda Dawkins | Ventura, CA |
| 40 | Natazak | SC 52 | Steve Williams & Loretta Komarczyk | Santa Cruz, CA |
| 41 | Escapade | Swan 56 | Pieter Heerema | Medemblik, Netherlands |
| 42 | Champagne | Beneteau 42 | Clark Hamm & Marga Bakker | Los Angeles, CA |
| 43 | Windancer | Catalina 38 | Ed & Linda Pedigo | Redwood City, CA |
| 44 | Dos Amantes | Island Packet 40 | Joe & Lori Lacey | Reno, NV |
| 45 | 360° | Passport 41 | Joel & Mary Thornton | Seattle, WA |
| 46 | Shilling of Hamble | Oyster 435 | Dennis & Janet Knight | Southammpton, UK |
| 47 | Allegro | Catalina 42 | Jim & Mary Brye | Ventura, CA |
| 48 | Dawn Treader | Contest 48cs | Hal Craft | Dana Pt., CA |
| 49 | Island Mistress | Willington 47 | Jeff & Judy Wahl | Yankton, SD |
| 50 | Koho | Cal 48 | Hugh & Karlene Owens | Portland, OR |
| 51 | Daydreams | Pearson 385 | Joe & Melinda Day | Nevada City, CA |
| 52 | Out of Africa | Wildcat 350 cat | Richard & Kathy Cavanagh | Isleton, CA |
| 53 | Jakyrah | Island Packet 35 | Tom & Chris Wakes | San Diego, CA |
| 54 | Lonesome Dove | Elite 29 | Britta Fjelstrom | San Francisco, CA |
| 55 | Dream Ketch'r | Endeavour 43 | Don Watkins | San Diego, CA |
| 56 | Sonrisa | Valiant 40 | John & Sylvia Parr | Corpus Christi, TX |
| 57 | Catch the Wind | Cal 39 | Sam Crabtree & Suzie Wilson | Richmond, CA |
| 58 | Salacia | Catalina 42 | Mark & Deanna Roozendaal | Victoria, BC |
| 59 | Chaitanya | Tayana 37 | Ian & Heidi Jarman | Alameda, CA |
| 60 | Jenny | Jeanneau 43 | Doug & Joan Leavitt | San Francisco, CA |
| 61 | Topaz | Caliber LRC | Mark & Karen Isaacson | Alameda, CA |
| 62 | The Boat | Island Packet 35 | Ron & Tam Preston | Stockton, CA |
| 63 | La Vie | Beneteau 405 | David Kane | Seattle, WA |
| 64 | Serenity | Catalina 42MKII | David Albert | Oceanside, CA |
| 65 | Murray Grey | Ericson 38 | Jim Sicard | Portland, OR |
| 66 | De La Sol | Alberg 35 | Jerry & Slater McArdle | Oceanside, CA |
| 67 | Allegra | C&C 37 | Alan Paul | Oxnard, CA |
| 68 | Flyer | Tartan 3400 | Klaus Kutz & Jennifer Rader | Alameda, CA |
| 69 | Captain George Thomas | C&C 30 | Capt Bill Thomas | Vallejo, CA |
| 70 | Tiki iti | Downeast 38 | Sean & Adrian Guches | N/A |
| 71 | Freestyle | 40-ft cat | Jerry Wetzler | Dana Pt., CA |
| 72 | Sun Baby | Lagoon 410 cat | Daniel & Cynthia Kerns | Seattle, WA |
| 73 | Sumatra | Trintella 53 | Jerome Morgan | San Francisco |