Photo of the Day: Going, Going, Gone
July 31 - Hawaiian Islands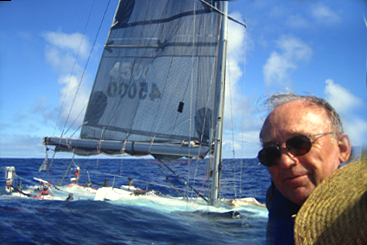 Helpless to save her, the crew of Mureadritta's XL watches from
their raft as their Pac Cup warhorse slips into the deep.
Photo Courtesy Mureadritta's XL
Today's Photo of the Day is of the Las Vegas-based ILC 40 Mureadritta's XL, as it sank beneath the surface last Tuesday morning, roughly 450 miles north of the Big Island of Hawaii.
As reported earlier in 'Lectronic, the 40-footer was returning to the West Coast from the Pacific Cup when she struck a whale, which left an 18 x 12-inch hole in the left side of the hull. After a valiant effort, her five-person crew, which included owner Antony Barran's father, Nick (foreground), abandoned ship to their liferaft, where one of them had the presence of mind to snap this incredible shot. The crew were eventually returned to the islands safely after a series of ship-to-ship transfers.
Look for a complete report in the September edition of Latitude 38.
- latitude / aet