Photo of the Day
July 26 - South Pacific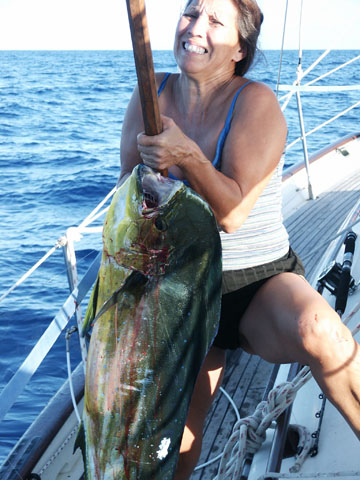 Photo Courtesy Sailors' Run
Today's Photo of the Day is of Debbie Hartjoy of the Longbranch, WA-based Baba 40 ketch Sailor's Run with an "I'm in the middle of childbirth" grimace on her face. But as you can tell, Debbie is not giving birth, she's landing a dorado. Off Fiji, as it so happens.
Jeff and Debbie did the '99 Ha-Ha, where they were a great team. For example, once they were caught with the chute up in too much wind. Unable to take it down safely, there was no option but for Jeff to drive for hours on end. After quite a bit of time had passed, he needed to pee in the worst way. Jeff didn't want to pee in his pants, so Debbie rushed to his rescue. Having grabbed a bottle from down below, she unzipped Jeff's fly, pulled out his spigot, and encouraged him 'relieve the watch'. So while Jeff battled to keep from rounding the boat up or down, he was, with Debbie's help, able to get the relief he so badly needed. Now that's teamwork.
Jeff and Debbie just sent us a CD full of photos from the seven subsequent years they spent cruising the Pacific. But apparently they're not done with cruising. "We're back in the Bay Area for now," they wrote, "but have sent in our application for this year's Ha-Ha."