The Rest of the Story on Janice Of Wyoming
July 28 - San Francisco Bay
We ran a photo of the accompanying boat, Janice of Wyoming, in the Sightings section of the August issue. At the time, we didn't know that much about her - as you can tell from the copy in that issue. Here's what we know now:
She's a Dubois 130 that was built by Alloy Yachts in New Zealand for a St. Francis YC member who, in addition to having been a major financial supporter of Paul Cayard's America's Cup campaign, prefers to remain anonymous. Janice was launched in April of '05, spent a year cruising in New Zealand, had her final warranty work done this spring, and then came to San Francisco via Tahiti. When crossing oceans without the owner aboard, such boats use delivery sails. How many people does it take to lift the main from such a big boat? Just one - the guy operating the crane.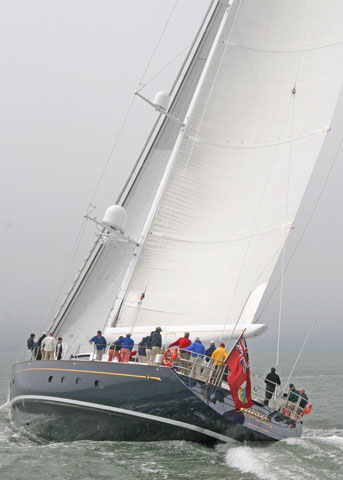 Photo Stephen Shidler/www.oceanfilmboat.com
The accompanying shot of Janice was taken while her owner was giving past commodores of the St. Francis YC a little joy ride on the Bay recently.
We can attest to the quality of work on Janice's exterior, as she's berthed just a few feet away from Profligate. She'll be in Northern California for another month or so, then head to Southern California. After the beginning of the year, she'll sail through the Canal to the Caribbean, then across to Valencia, Spain, for the America's Cup. Her owner apparently is supporting the Kiwi team this time around.
Ken Keefe of KKMI was the project manager for the boat and supervised construction. He's proud to say that Janice won the Show Boats award for Best Boat Under 40 Meters.
- latitude / rs