Photos of the Day
July 21 - Spezia, Italy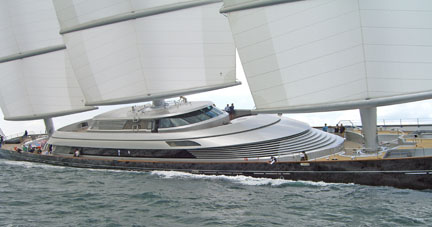 Maltese Falcon's lines are as clean as she is fast.
Photo Courtesy Perini Navi
Today's Photos of the Day are from last week's debut in Italy of Tom Perkins' spectacular "modern clipper ship" Maltese Falcon, which was built by the Italian firm Perini Navi at their yard in Istanbul. Some 287-ft long, she is the world's largest privately-owned sailing yacht. But what really sets her apart from all other sailing vessels is her unique Dyna Rig, which features furling square sails on three 192-ft tall carbon fiber masts. The masts are unstayed and rotate.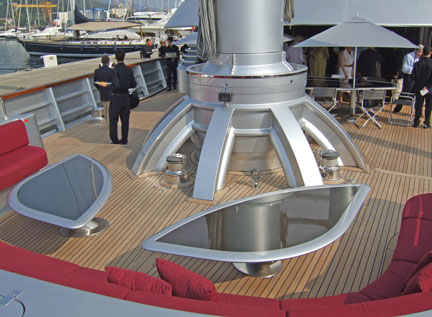 Because the rotating Dyna Rig masts are unstayed, the bases are quite large.
The Belvedere resident invited 100 or so of his friends for the debut, many of them from the San Francisco Bay Area. One of them, Knarr sailor Knud Wibroe, smiled when he told us, "I remember when Tom was just out of school, didn't have much money, and lived in an apartment on Bulkley Street in Sausalito. He had an IOD near my 8-Meter Scandia. 'That's a nice little boat you have,' I kidded him. We soon became friends. But he's come a long way with this yacht."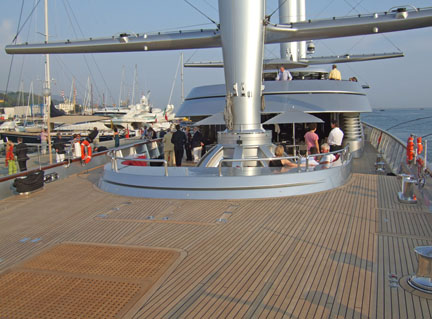 The enormous aft deck is wide open
Falcon is not just a masterpiece of technology, but also art. Her brilliant exterior and interior styling were done by Ken Freivokh, who was born in L.A. but grew up in Peru. When you go to boat launchings, everyone is always polite and says nice things about the new boat. But this is one case where folks were sincere, even those who generally prefer the classic looks of Perkins' previous boat, the 135-ft Herreshoff gaff schooner Mariette, to the much more contemporary look of Falcon.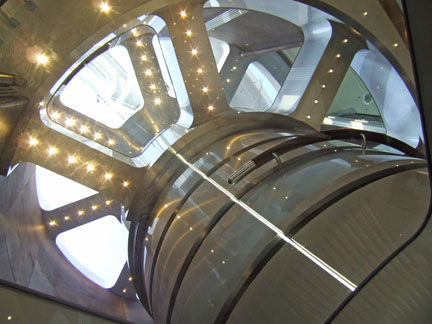 Looking up the mast from three decks down
What's interesting about the hull is that she was built about a dozen years ago for a client who eventually backed out of the project. While sailing his much smaller Perini Navi in Turkey with his daughter about seven years ago, Perkins stopped by the Perini yard, where he couldn't help but notice the enormous abandoned hull. He thought it would make a great yacht, and suggested the project to others. None were interested. As time went on, Perkins seemed unable to resist the challenge of creating something really special. As he told Fabio Perini, "I need a project, not another yacht." And that's what he got.
The defining moment for the project came when Perkins, who graduated in physics from MIT and is as hands-on as an owner can be, Perini, and naval architect Gerard Dijkstra, decided that the untried Dyna Rig would not just work, but would be ideal for the boat. Once Perkins gave the go ahead, it took 5.5 years to complete the yacht. Her finish is flawless.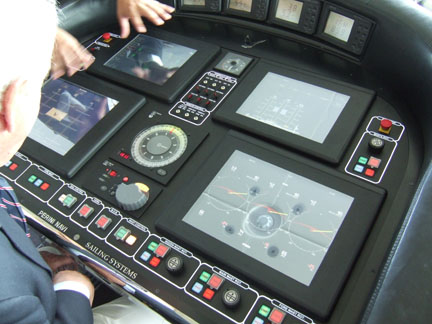 The masts and sails are monitored and controlled from this one station.
The very active Perkins, who is in his early 70s, describes the yacht as his "retirement home". He nonetheless noted that after a few months he would have to return to work in California. At such time, the yacht - which sleeps 12 guests and has a crew of 16 - will be available for charter at a base rate of 335,000 euros a week - or about $500,000 U.S. when all the extras are factored in. Several high end charter agents told us there certainly are clients who will be interested.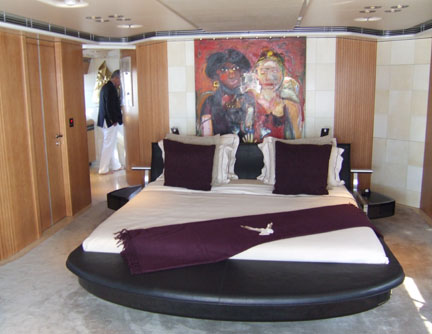 The owner's passage cabin
Photos Latitude/Richard except as noted
Falcon will cross the Atlantic to the Caribbean in November. Perkins has kicked around the idea of racing against Joe Vittoria's 247-ft Mirabella, bringing the yacht to San Francisco, and even challenging the New York to San Francisco record. But with the boat being so new, having only sailed from Istanbul to Malta to Antibes to Spezia, these are just possibilities that have crossed his mind.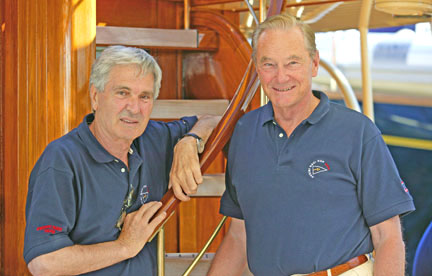 Builder Fabio Perini and owner Tom Perkins
Photo Courtesy Perini Navi
For much more on this historic yacht, see the August issue of Latitude 38.