Hawaii Races Winding Down
July 17 - Pacific Ocean
West Marine Pacific Cup
Led by the Swede 55 The Contessa, the bulk of the 42-boat Pacific Cup fleet rolled into Kaneohe Bay over the weekend.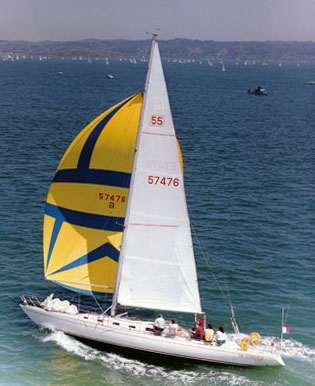 The Swede 55 The Contessa was first boat into Kaneohe in this year's Pacific Cup.
The Contessa, a doublehanded entry sailed by Shawn Throwe and Neil Weinberg, arrived at 11:40 a.m. local time. Second in about three hours later was Division E entry Lightning. Having started two days later, Tom Akins' well-sailed SC 52 also had the fastest elapsed time of 9 days, 3 hours, 5 minutes - not a record, but a fine run nonetheless. Although official standings must wait until all boats have finished, it appears both of these boats won their respective divisions.
Other provisional winners include:
Division A - California Girl, Cal 40, Timm and Betty Lessley
Division B - Tutto Bene, Beneteau 38s5, Jack Vetter
Division C - ET, Antrim 27, Liz Baylis and Todd Hedin
Division D - Synge, Synergy 1000, Mike Amirault
All yachts are expected to finish by Wednesday. For more: www.pacificcup.org.
Singlehanded TransPac
By the time you read this, all 14 official entries in the Singlehanded TransPac should be anchored in beautiful Hanalei Bay, Kauai, bringing to an end perhaps the most brutally slow race in this event's history. Arriving Saturday afternoon - conveniently right before the awards ceremony - was Ken Stuart on Second Chance. That left only the race's two smallest boats, Paul Woodward's Kirby 24 Hesperus and Chris Humann on the Dana 24 Carroll E. Unfortunately, Hesperus's rudder "fell off" a couple of hundred miles from the finish. All Solo T-Pac'ers are required to carry emergency rudders, but that broke, too. So Paul had rigged warps and was proceding to Hanalei at a blistering 2-3 knots. Just to be safe, Chris on Carroll E slowed down and sailed alongside Hesperus.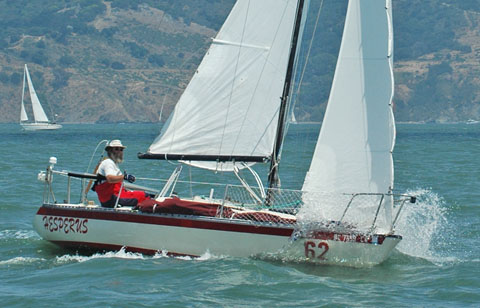 Paul Woodward's Hesperus finished the Singlehanded TransPac last night - without a rudder.
Carroll E will of course receive redress for his good deed, which may affect the standings in Division D. At this writing, however, Synthia Petroka had won that division aboard the Hawkfarm Eyrie. Other winners are:
Division A - Alchera, J/120, Mark Deppe
Division B - Foolish Muse, Olson 30, Andy Evans
Division C - Sail A Vie, Ericson 35, Phil Macfarlane
Overall - Alchera
Read the whole story in the August issue of Latitude 38. For more immediate gratification: www.sfbaysss.org.