Collision Course
July 14 - San Francisco
Last Saturday afternoon, the 30-ft Sea Scout whaleboat Viking was on its way back to its Aquatic Park base from Angel Island when it was involved in a T-bone collision with a Catalina 36. Fortunately, none of the 12 people aboard Viking - nine teenage Scouts and three adults - nor the four aboard the Catalina, were injured. But the open whaleboat suffered several broken planks and immediately swamped. After the hit, the Catalina crew dropped their sails, started their engine and rendered assistance. They eventually got all nine teenagers aboard, either by taking them directly off Viking, or pulling them out of the water (everyone was wearing lifejackets). At one point during these maneuvers, the whaleboat capsized and the three adults still aboard climbed onto the upturned bottom. They were taken off by a St. Francis YC race committee boat, which had been stationed nearby for the San Francisco Longboard Classic and had heard a 'pan, pan' call for help on the radio. A number of boardsailors in the event also stopped racing and came over to stand by or render aid, some pulling floating Scouts onto their boards until a boat could pick them up. Just about the time everybody was finally out of the water, two Coast Guard boats arrived. Eight of the Scouts were transferred to the 47-footer. One, suffering from mild hypothermia, was transferred to a smaller boat and later taken to a hospital where he was checked and released.
Viking, an open keelboat built in Puget Sound in the '30s, was eventually righted and towed back to Aquatic Park by a commercial salvor. Despite being dismasted and sustaining lots of damage, Sea Scout director Nick Tarlson hopes she will sail again. "At one time, almost every high school in the Bay Area had a Sea Scout team and one of these boats," he notes. "Now there are only two left, Viking and Corsair. Yes, we'd like to keep them alive and sailing."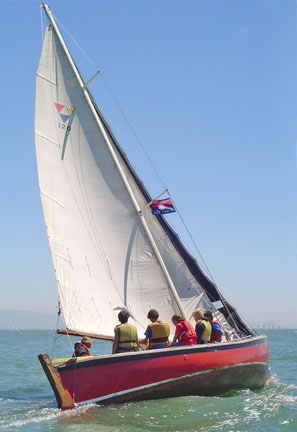 The 75-year-old Viking was heavily damaged in a collision last weekend. Fortunately, there were no serious injuries.
Photo Courtesy Nick Tarlson
We're going to withhold further details of this incident until we've heard from all parties involved - or at least allowed them ample time to call back. Hopefully, that will be by the deadline for our August print issue.