Hawaii Updates: It's All Downwind from Here
July 12 - Pacific Ocean
West Marine Pacific Cup
Position reports as of last evening put the entire Pacific Cup fleet of 43 boats dead center between Hawaii and the mainland, with Tom Akin's SC 52 Lightning maintaining her lead of both the Division E 'big boats' and the entire fleet. Other Division leaders include California Girl (Cal 40) in Division A; Tutto Bene (Beneteau 38s5) in Division B; ET (Antrim 27) holding onto Division C; Sapphire (Synergy 1000) heading Division D and The Contessa (Swede 55) topping Doublehanded Division.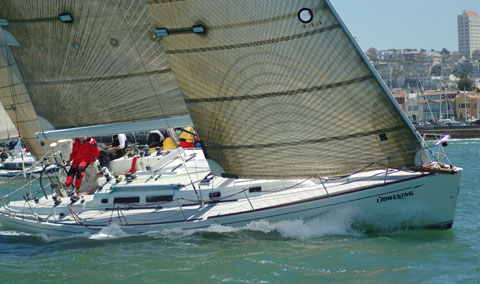 Lightning is leading in the Pac Cup charge.
Photo Latitude/LaDonna
Although the finish is still a few days away, there's a big buzz in the fleet right now over who will win the 'Million Mile Trophy' sometime today. Somebody at West Marine added up all the miles of all the boats in all the Pacific Cups and figured out that some boat in this race will pass the literal millionth mile. The boat with the best corrected time run today will win that one-time-only award (well, okay, it may return for the 2 millionth mile in about 2025). Current best prospects are all the leading boats just mentioned, as well as Basic Instinct (Elliott 10.50), Orizaba (J/130) and Synge (Synergy 1000). Be sure to tune in to Friday's Lectronic Latitude (or to the Pacific Cup Web site at www.pacificcup.org) to see who went that magic 'extra mile'.
Singlehanded TransPac
Over in the Singlehanded TransPac, the agony of the windless first week has largely been forgotten as everyone still sailing is now on final approach into Hanalei Bay, Kauai. Six of the 13 boats left in the race have finished so far, with Lou Freeman on the Swan 51 Seabird having just come in as we were typing this. The finishers, in order, are:
1) Dogbark, Open 60, Al Hughes
2) Alchera, Custom J/120, Mark Deppe
3) Tiger Beetle, N/M 43, Rob Macfarlane
4) Foolish Muse, Olson 30, Andy Evans
5) Ragtime, J/92, Bob Johnston
6) Seabird, Swan 51, Lou Freeman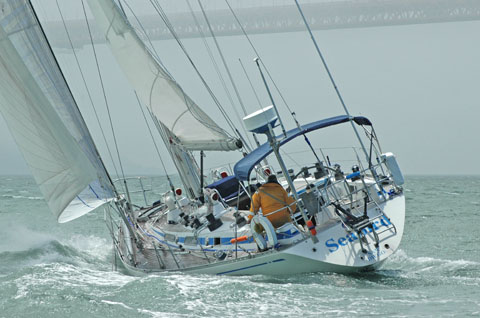 Lou Freeman on Seabird just finished.
Photo Latitude/JR
No word yet on who's going to correct out in the money, but everyone is crunching the numbers and there are hints at more than one surprise ending. For more: www.sfbaysss.org.