West Marine Pacific Cup Gets Underway
July 5 - San Francisco Bay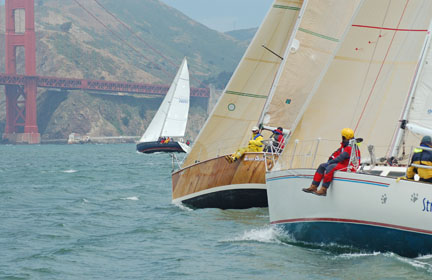 Siderno, Fred Vitale's Burlingame-based Beneteau 473, leads the charge to the bridge with Sweet Okole, a Custom Farr 36 owned by Oakland's Dean Treadway, and Stray Cat Blues, Bill Parks' Fremont-based J/35, in hot pursuit.
The 2006 West Marine Pacific Cup - the biennial 2,040 mile 'fun race' from San Francisco Bay to Oahu's Kaneohe Bay - kicked off its 14th running on Monday, July 3, from the starting line at St. Francis YC. Twenty boats in three divisions - Doublehanded, Division A and Division B - were greeted by fog and light winds Monday morning as they made their way under the Golden Gate Bridge. Conditions outside the Gate were a little less mild, with heavier winds and bumpy seas.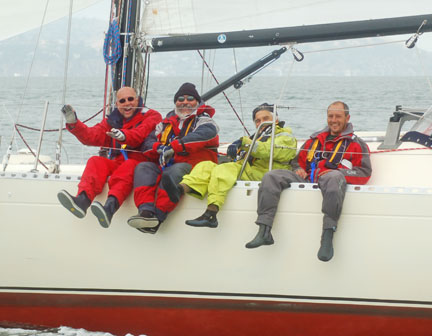 The crew of Hooligan, Alice Martin's Westsail 11.8 out of Sausalito, looks like they're already having fun.
Tuesday's Division C start was a little more energetic with moderate winds for seven serious racing boats and one late Division B starter. The eight Division D boats will start today at 1:10 while the final seven Division E boats will start Thursday afternoon.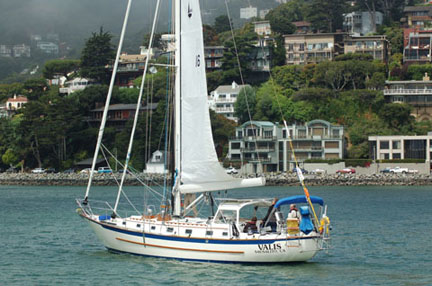 Division B's Valis, the Occidental-based Pacific Seacraft 44 owned by Paul Elliott, suffered mechanical problems coming out of Sausalito, and had to postpone their start until Tuesday.
This morning's position report shows the Doublehanded Division Swede 55 The Contessa, owned by Alameda's Shawn Throwe, at the front of the pack with 180 miles made good in the last 24 hours, followed by Division A's Green Buffalo, Jim Quanci and Mary Lovely's Belvedere-based Cal 40, with 171 miles made good.
We'll be bringing you updates as the racers make their way across the Pacific. You can also track their progress from official position reports or by clicking on the iboat Track link on the official Web site, www.pacificcup.org. Not all boats are equipped with transponders so the live tracking isn't the final word, but it does give you a good visual of how the boats are spreading out.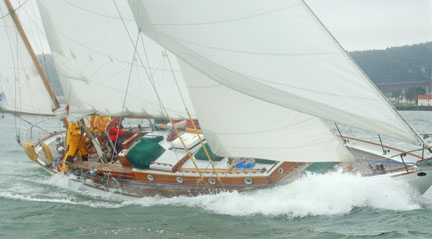 San Francisco-based S&S 52 Bounty, owned by Daniel Spradling, has a bone in her teeth as she passes under the Golden Gate Bridge.
Photos Latitude/LaDonna