Soloists Set Sail
June 26 - San Francisco Bay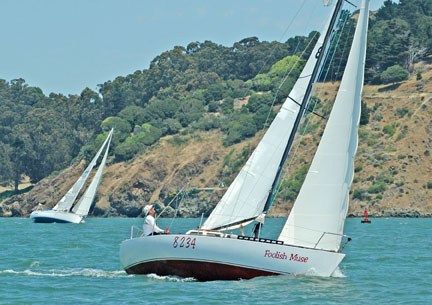 Andy Evans' Olson 30 Foolish Muse gets some breeze off Angel Island. Dwight Odom on Na Na is just behind.

Sixteen intrepid singlehanders answered starting guns on Saturday off the Corinthian YC in Tiburon for the start of the 2006 Singlehanded TransPac. Next stop, Hanalei Bay, Kauai, 2,120 mile and - for most racers - about two weeks away.
As ever, entries in the West Coast's longest singlehanded race are an eclectic bunch: a philosophy teacher, retired physician, software engineer, sailmaker and retired general. The latter is Ken Roper, who is on his ninth Solo TransPac in the same boat, his Finn Flyer 31 Harrier. At 77, Ken is the 'grand old man' of this year's race - but don't say that to his face.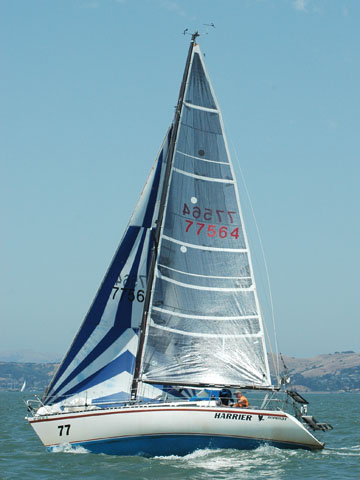 Ken 'The General' Roper starts his, ahem, ninth Solo TransPac. While other 77-year-olds are merely existing, Ken keeps active sailing and scuba diving all over the world.

Other boats to watch: Phil Macfarlane's Ericson 35 Sail A Vie. Phil is the '04 defending champion. Although he's sailing one of the race's oldest boats (SAV was built in 1971), Phil is a tenacious competitor who last time went sleepless for three days straight at the end, tweaking every bit of speed out of the boat.
Al Hughes is another racer to watch. Sailing this year's biggest boat, the Open 60 Dogbark, Al could well be the one to set a new monohull record if he gets the breeze. Having raced in the '04 event for the first time, Hughes, of Seattle, 'knows the ropes' this time around and plans to push the boat harder. The current monohull mark is 10 days, 22 hours, 53 minutes, set by Ray Thayer's Wild Thing - also an Open 60 - in 1996.
Daily updates, logs and positions are charted on the sponsoring Singlehanded Sailing Society's Web page (www.sfbaysss.org, click on Singlehanded TransPac), so it's easy to follow the race. We'll also run updates here on 'Lectronic Latitude, and of course bring you full coverage of the race in the August issue of Latitude 38.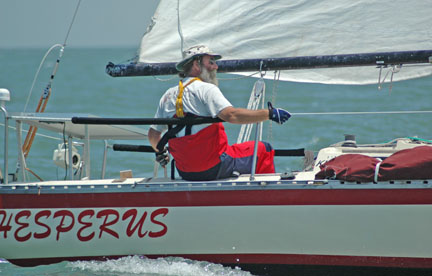 Paul Woodward already gets the long distance award - he came from North Carolina to do the race. His boat, a modified Kirby 23, is also this year's smallest entry.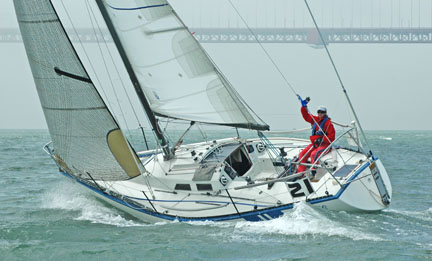 Longtime local singlehander Synthia Petroka sails her first Solo TransPac on the Hawkfarm Eyrie.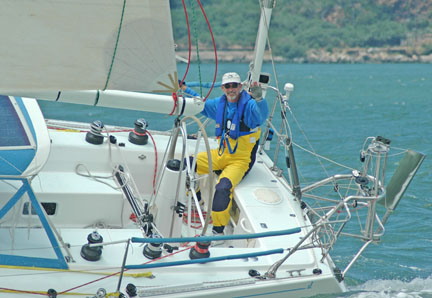 Mark Deppe steers his impeccably prepared custom J/120 Alchera out the Gate in his fourth Solo TransPac.
Photos Latitude/JR