Summer Sailstice Weekend
June 23 - San Francisco Bay
Bay Area sailors enjoyed Summer Sailstice on one of the finest sailing weekends of the year - with clear, warm, sunny skies, nice breezes and the long days of summer. Many joined the Summer Sailstice celebration at Treasure Island Sailing Center where junior racers, OCSC Summer Sailstice perpetual trophy competitors, yacht club cruisers and daysailors all congregated to celebrate sailing and hear the Cowbay Cruzboys' classic island tunes.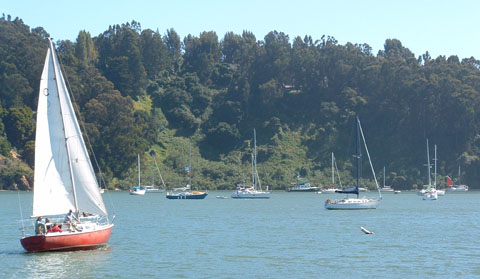 Clipper Cove filled up with cruisers
Clipper Cove made for an ideal host location with plenty of anchoring room for visiting cruisers including cruise-ins from South Beach YC, Island YC, Encinal YC, Corinthian YC, and individuals as well. As the cruisers headed in many Optis, Vanguard 15s and others were heading out to the race course for mostly unseasonably light but pleasant sailing conditions.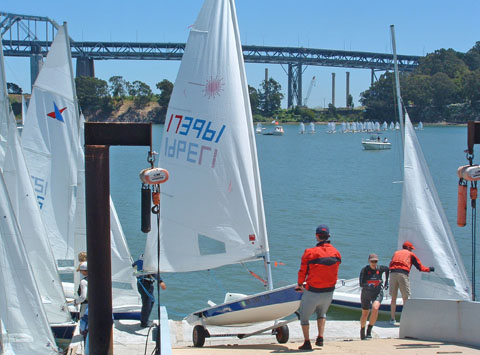 Optis, Vanguard 15s, Lasers and others showed up to race.
The Saturday afternoon Nav Rally and treasure hunt hosted by Club Nautique and Treasure Island Yacht Club were a big hit with pirates, kids and Bay cruising sailors. It was a spectacular weekend to be on the water with Treasure Island Sailing Center doing a magnificent job of hosting sailing, music, food and fun!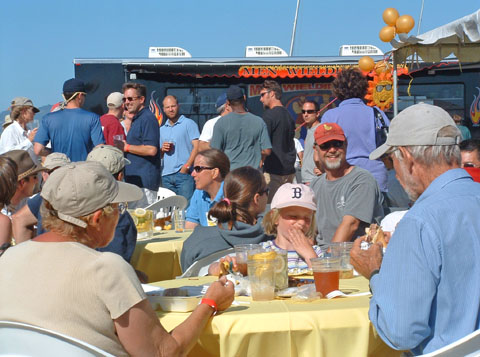 Everyone came ashore for TISC's Summer Sailstice celebration.
Photos Latitude/John Arndt