Catamaran Eclipse Brought Back to Panama
June 21 - Panama
Eclipse, the 34-ft cat that was designed, built, and sailed tens of thousands of ocean miles by Brit Richard Woods before being abandoned in heavy weather in the Gulf of Tehuantepec months ago, was towed into Panama yesterday, reports John Haste of the San Diego-based Perry 52 cat Little Wing. Eclipse had been found far out into the Pacific about six weeks ago, stripped and covered in bird poop. Woods has reportedly started building a replacement cat.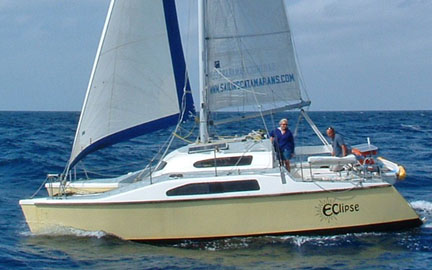 Eclipse
Haste also reports that the old schooner Ranger, which had been a fixture in Puerto Vallarta, sank while on the hook at Panama during a particularly heavy southerly swell. Her owner then contracted to have her refloated. It took 150 barrels and four days.
As for Haste's cat Little Wing, she's just fine, thank you.