Paul Cayard's Perfect Weekend
June 19 - Southern Marin
People who know how much we read and write often ask us what we do in our spare time. Besides sailing, we love to read - and there's nothing we love to read more than the Financial Times, which for some reason is printed on pink newsprint. If you don't read the Financial Times, there's no way you can possibly know what the hell is going on in the world politically and economically. The Economist sort of does the same thing, but is boring and doesn't know how to have fun like the F.T.
The best part of the Financial Times is the Weekend Edition, which always has great articles and unusual interviews - the latter conducted over lunch - with noteworthy people you've probably never heard of. It also features lots of cleverly written columns on every aspect of life but the political and economic, and all from a worldly wise perspective.
About once a month, the Weekend Edition includes a glossy magazine called How To Spend It, which is geared toward the super rich. Entirely in keeping with the F.T.'s sense of fun, each month there is an entire feature in the magazine devoted to mocking and skewering the super rich - such as those who have real grass tennis courts installed on their megayachts, but don't know how to play tennis.
On the inside back page of each How To Spend It is an article titled the Perfect Weekend. These are written by people who live unusual lives, and simply describe their perfect weekend. It just so happened that last weekend's How To Spend It Perfect Weekend author was none other than Paul Cayard of Marin County, known to most sailors as the skipper of The Black Pearl in the Volvo, for having won the Whitbread eight years ago, for having been in countless America's Cups, for having competed in the most recent Olympics, etc., etc. We can't offer you any proof, but we're certain that Cayard - like sailmaker Lowell North 15 years before him - is much more famous in Europe than he is in the United States.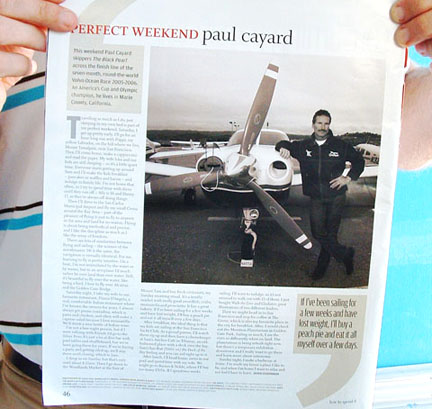 Cayard's Perfect Weekend Feature in How To Spend It.
Photo Latitude/Annie
You're going to somehow have to get a copy of last week's How To Spend It in order to find out how Cayard does spend a perfect weekend, but we will tell you that you might bump into him at Piazza D'Angelo, which is right up the street from our office in Mill Valley, the Silver Peso Bar in Larkspur, which is also a popular hangout with Marin kids home after their stints at university, and Sam's Anchor Cafe in Tiburon.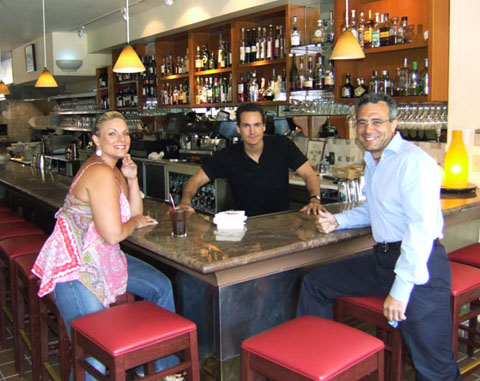 Cayard's favorite restaurant is across the street from the Depot Plaza in Mill Valley.
Photo Latitude/Richard
Paul Cayard - my hasn't he done well? The best thing about it is that he's done well based on skill and achievement, not having been born with a silver spoon in his mouth. A tip of the Latitude hat to him.