Tahiti Tourisme to Host 'Puddle Jumper' Welcome
June 16 - Tahiti

For decades West Coast sailors have been voyaging to the fabled islands of Tahiti, but few have ever received a welcome like the one that this year's Puddle Jumpers are expected to get. Let us explain. While visiting Tahiti's Leeward Islands last March, we had a chance to meet with several local tourism folks, as well as French Polynesian Vice President Jacqui Drollet, who, in addition to other duties, oversees tourism activities. When we told Monsieur Drollet and the others about the annual migration of Puddle Jumpers, and suggested that perhaps some sort of reception could be arranged, he seemed genuinely interested.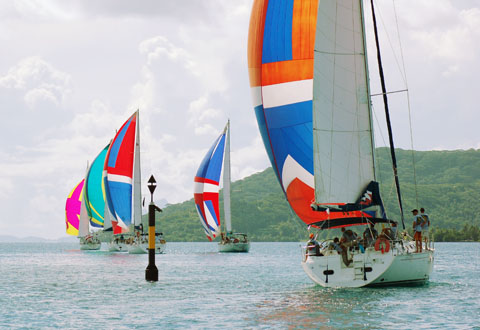 A fun race from Raiatea to Tahaa will be part of French Polynesian Tourism's
welcome of Puddle Jumpers.

We heard nothing more about it, however, until yesterday, when we received word of the new Tahiti Tourisme Cup 2006 - a two-day sailing and cultural event put together in part - if not totally - to welcome this year's Puddle Jumpers. There will be an Opening Ceremony on the evening of June 30 to kick off the event, which will be followed the next morning by a 'fun' race to Tahaa's Taravana YC. That afternoon yachties will crew with local Polynesians in a series of six-person outrigger canoe races, followed by dinner, awards and, undoubtedly, traditional Polynesian dancing and music. Now that's what we call a welcome! Hopefully, a lot of Puddle Jumpers will be in the area and will participate. It would be wonderful if this all becomes an annual tradition. For more info, see: www.tahiti-tourisme.pf/articles.php?id=1884. Cruisers or vacationing bareboaters may apply to participate by emailing Stephanie or Polynesian Yacht Services.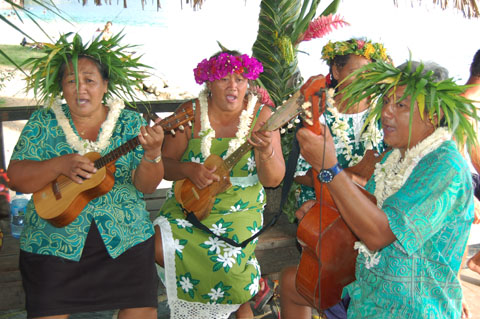 Part of the welcoming committee during our recent visit.
No one can make a ukulele sing as sweetly as a native Polynesian.
Photos Latitude/Andy