Oh Mon Dieu! The Maxi-Multis Multiply!!!
June 14 - Vannes

One thing about the French: When it comes to chasing records, as Olivier de Kersauson has proven, they do so in a big way. The latest example was unveiled earlier this week when Franck Cammas splashed his new 105-foot trimaran, Groupama 3, which reportedly will be the first foil-equipped multihull to venture into the windswept waters of the Southern Ocean. Cammas plans to trial the boat this summer off Brittany with plans to mount a fully-crewed assault on Bruno Peyron's round-the-world record of 50d, 16h, 20m, 4s in late 2007.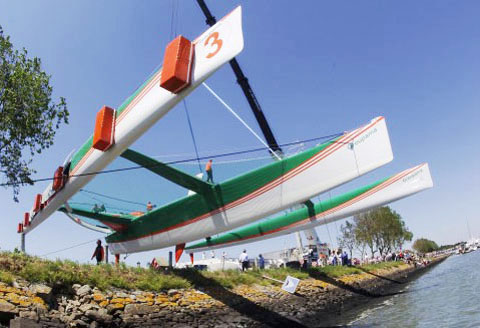 Cammas and his crew will have to keep a close watch, for they'll likely be sharing the seas with not one, but two solo countrymen who hope to knock off Ellen MacArthur's singlehanded record of 71d, 14h, 18m, 33s at around the same time. Friends and rivals Francis Joyon and Thomas Colville have both commissioned maxi-trimarans of roughly 100-feet LOA designed by the team of Nigel Irens and Benoit Cabaret. But the similarity ends there. Young buck Colville wants a high-tech, no-holds-barred machine, while the rugged, seasoned Joyon - the Shaquille O'Neal of solo sailing - has asked for a more economical, minimalist approach that he can drive for hours and hours on end. Colville's tri, Sodebo, is currently under construction in Australia while Joyon's IDEC II is being built in Lorient, France.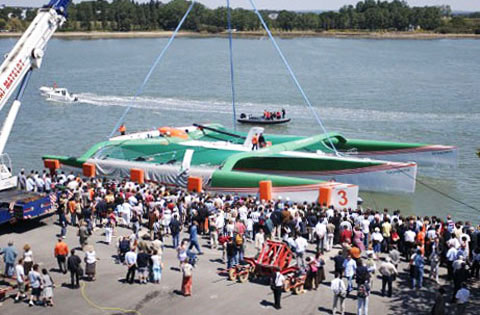 Cammas' new trimaran is the sixth multihull in excess of 100 feet built by Multiplast in France. Perhaps these two photos will help you appreciate how big such boats are.
Who's right? It'll be fun to watch and find out. But with more of the so-called G-Class maxis in the works, it appears the French are ready and able to spend beaucoup bucks to rule the record-setting waves.

By the way, the talk around the Corinthian YC, with Olivier de Kersauson's 110-ft maxi tri on a nearby mooring, is that there may be an even bigger Geronimo in the works.
Photos Yvan Zedda/Courtesy www.multiplast-yachts.com