Silly Wabbit! Devil May Hare Corrects to Victory in Delta Ditch Run
June 12 - Delta
On a day that started off wild and windy, and finished up toasty and serene, 112 boats enjoyed a wide range of conditions in the weekend's exciting Delta Ditch Run, co-sponsored by the Stockton Sailing Club and the Richmond YC. A breezy start to the winding 67-mile race ultimately gave way to a fluky southwester, which turned what is usually an annual jibing fest into a race that saw countless sets and douses, and a whole lot of two-sail reaching.

When all was said and done, Bill Erkelens' D-Class cat, Adrenaline, was the first multihull to finish, as well as the first overall, while Jim and Rick Yabsley's Melges 32 Yabsolutely led the monohulls across the finish line. But the big winner was Erik Menzel's Wylie Wabbit Devil May Hare, which not only won its six boat class, but corrected out to first overall. A fresh carrot goes to Devil's crew and a round of applause to the folks at Stockton and Richmond Yacht Clubs, who combined to run another fantastic Ditch Run.

The charge of the ultralight brigade - the 26 Moore 24s were the biggest one design fleet in the race.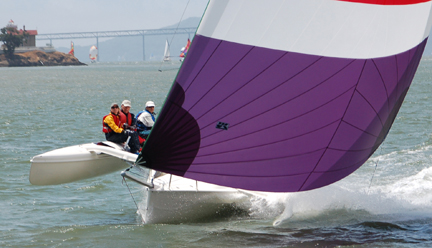 Tritrip, a Corsair 750, sailed by Alan O'Driscoll, Karen Flick and Chris Boome, on their way to a second in the multihull division, despite having torn their only spinnaker when we jinxed them by taking this cool photo.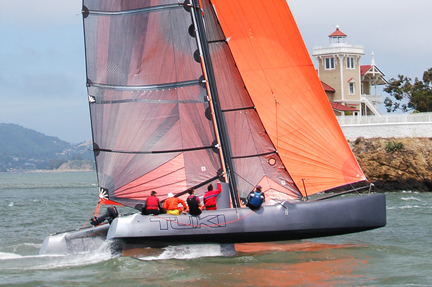 Roger Barnett's, Tuki, a ProSail 40, like the ones seen in The Thomas Crowne Affair, screams past The Brothers, without slowing for either bed or breakfast.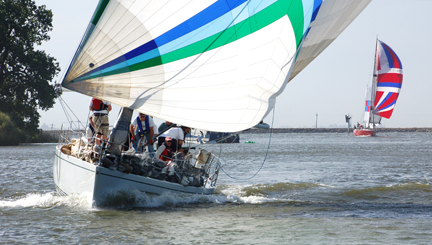 Infinity, Gary Gebhard's Holland 47, spinnaker reaches toward Stockton.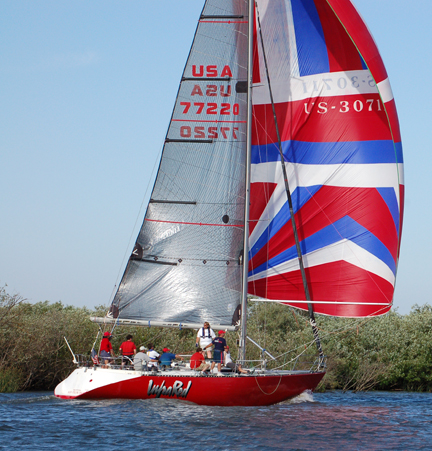 Olive oil man and rancher Ray Lopez demonstrates his affection for the land by driving his Davidson 44 InfraRed up into the tules. Actually, it just looks that way, he was just shaving them.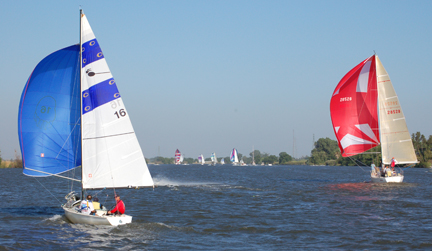 With Stockton just a short distance away, Aarom Storm's Bear Wabbit battles it out with Bob Bloom's J/35 Jarlen.
Photos Latitude/JR, Herb & Richard