Teens to Voyage Seaward Aboard Seaward
June 9 - Sausalito
What are your kids up to this summer? School's getting out, and if you want your teenagers to do something more worthwhile with their time than cruising the mall or the Internet, you might consider sending them off on a real adventure - a cruise on a tall ship.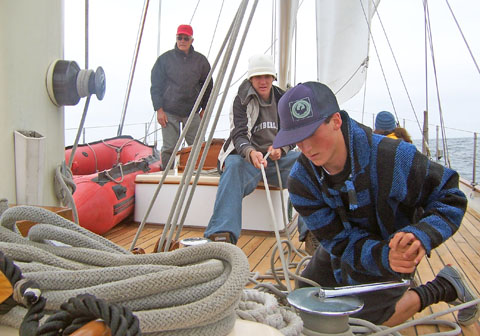 Photo Courtesy Seaward
During this five-day/four-night sea-going educational adventure aboard the big schooner Seaward, guided by a professional captain and crew, students are challenged to become a team, learning to sail a traditional ship and taking her on a voyage beyond the Golden Gate. Given increased responsibility as the days pass, their skills grow; they develop confidence, teamwork and leadership abilities. Dependent on weather, wind and tide instead of social pressures and electronic entertainment, they gain an appreciation and respect for the ocean environment. By fully participating in all aspects of shipboard life - steering, navigating, standing watch, and helping in the galley - students become one with the rhythm of a ship at sea, often returning to shore forever changed.
Academic curriculum is based on the readily observed and immediately relevant phenomena of the Bay and coastal maritime environment. Topics include physical oceanography, meteorology, Bay and coastal marine ecology, navigational exercises, and history and traditions of the sea.
'Voyage Seaward' runs from Monday, July 31, through Friday, August 4, 2006, and costs $750 per person - but partial scholarships may still be available through Golden Gate Tall Ships Society. For more information, see www.callofthesea.org and www.ggtss.org, or contact Seaward's captain, Alan Olson, at (415) 847-0426, or Ken Neal-Boyd at (415) 331-3214.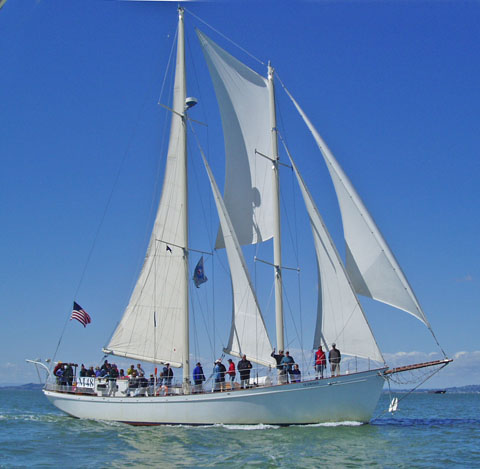 The lovely schooner Seaward nears the finish line of the 2006 Master Mariners Regatta.
Photo Latitude/Chris