Photos of the Day
May 26 - San Francisco Bay Area and Cyberspace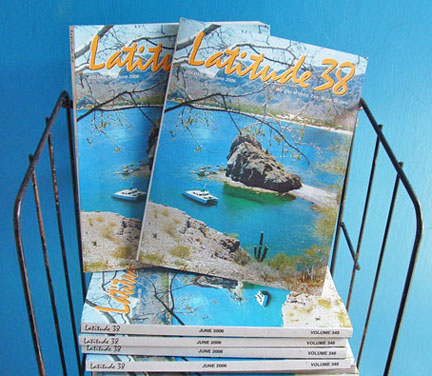 The June mag hits Bay Area racks today, in time for the Memorial Day weekend.
Today's Photo of the Day is of the June issue of Latitude 38, which at this very moment is being delivered to locations all over the state. Yes, it is earlier than normal, but we wanted all of you to have some good reading material for your Memorial Day sailing adventures. By the way, we think it's a terrific issue, with much better color photo reproduction than in previous months.
Are you in Papeete, St. Martin, South Africa, Topeka, Amsterdam - or any of a billion other places where Latitude isn't distributed? We've got great news for you. From now on, entire issues of Latitude 38, in magazine form, will be available the first week of each month online, and with spectacular reproduction of the color photos. It's mind-blowing stuff. The May issue is already up. For instructions on how to get it, go to www.latitude38.com/ebooks.html. It takes a few minutes to download the software, but once you've done that, you can access the entire magazine in a matter of seconds. It's really cool.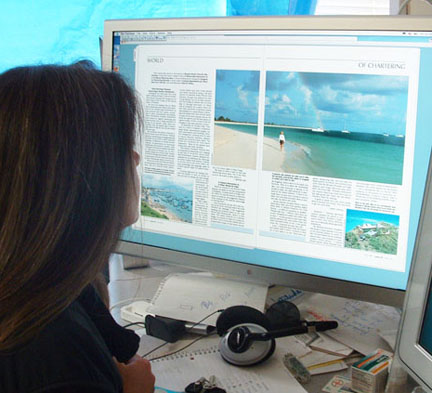 Now you can enjoy all the fabulous photos and read the entire magazine without even leaving your own cozy cubicle!
Photos Latitude/Annie
Software being software, and computers being computers, we can't guarantee this will work for everyone, particularly those with older computers. But so far the success rate of 'family and friends' has been very good.
The first four issues - May, June, July and August - will be free. Starting with the September issue, an annual subscription will cost $36, the same as a third class subscription for the printed version. If that sounds like a lot of money, remember that it's $36 for about 2,880 pages of sailing fun a year, by far the most of any sailing magazine in the English-speaking world. And if you're anchored on your boat somewhere with Internet access, you can download it without even leaving your boat!
Give it a try, and then please give us your reaction.