Photos of the Day
May 3 - Puerto Escondido, BCS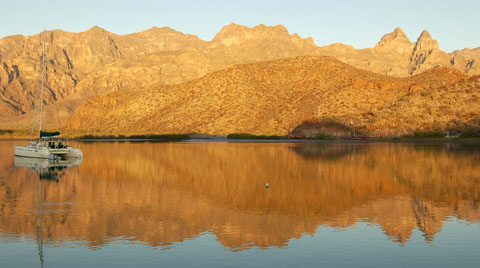 Today's Photo of the Day is of Dolce Vita, the Belvedere-based Marquesas 56 owned by Mai Dolich, as seen at anchor last week at lovely Puerto Escondido, Baja Sur, Mexico. The Sierra Gigantica mountains that back the anchorage are spectacularly beautiful. Although you can't tell from the photo, they tower to nearly 5,000 feet within just miles of the anchorage. Puerto Escondido is the site of Loreto Fest, which begins this weekend. About 100 boats are expected.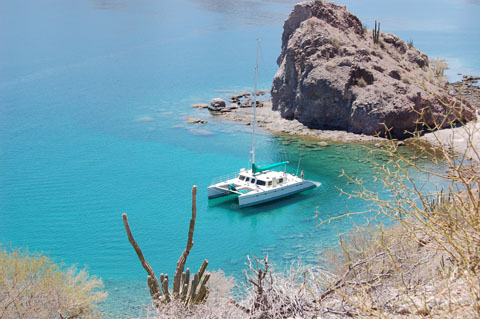 The second shot is of Profligate, and was taken three days ago at the Agua Verde anchorage between La Paz and Loreto on the western shore of the Sea of Cortez. The water was Lake Tahoe clear in the little cove. For those who are keeping track, the water has just now become warm enough - 75 degrees - for comfortable swimming. In another month or two, it will be in the low to mid-80s. The water temperature in the Sea has what Neil Shroyer of Marina de La Paz calls a lag time. As such, it stays warm enough for pleasant swimming well into November and often December, but doesn't warm up again until May.
As most of you know, almost all of Baja is serious desert. To prove it, Doña de Mallorca poses next to a not at all unusually large cactus above the Aqua Verde anchorage.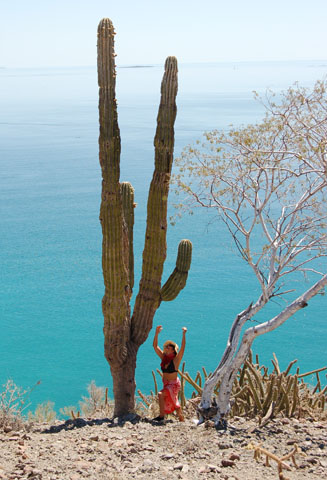 Photos Latitude/Richard
We've just concluded a week-long cruise in the Sea of Cortez aboard Profligate - now bashing north - during which time we learned all kinds of interesting stuff. Not the least interesting and bizarre is, according to Elvin of the Puerto Escondido-based Western Sea - a plan by Fonatur, the Mexican tourist development agency, to place a 200-ft ferry converted to a fuel barge in the center of the San Jose Channel. It makes as much sense as if some branch of the U.S. government anchored a massive fuel barge halfway between Long Beach and Catalina. It's all part of the much-ballyhooed 'Nautical Stairway' which, as we predicted from the very beginning, isn't going to be a 'stairway' at all. We'll have much more in our Blog Of The Sea Of Cortez next month.