Pyewacket Takes Line Honors at Ensenada with Amateur Crew
May 1 - Ensenada, Baja California
While most entries in the 59th Lexus Newport to Ensenada Race were struggling in light air, the R/P maxZ86 Pyewacket seemed to be making her own breeze, as she slid down the coast to take line honors.
Beyond the initial glory, the win will undoubtedly have invaluable PR value for its owner, the Orange Coast College School of Sailing and Seamanship, as most of the 26-person crew were amateur sailors from the school's student roster or from the neighboring community. Longtime school director Brad Avery and boat manager Keith Kilpatrick, co-captained during the race.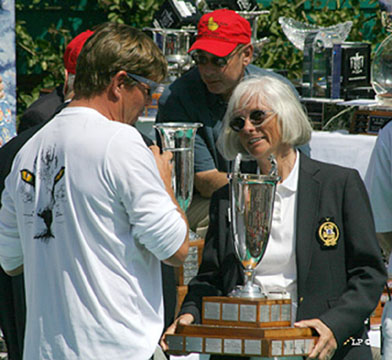 Co-skipper Keith Kilpatrick receives Pyewacket's first-to-finish trophy.
The event's overall winner was Max Rosenberg's Hobie 33 Mad Max, with a corrected time of 22 hours, 26 minutes, 41 seconds. For complete results see www.nosa.org.
With 7 to 8 knots at the start and never more than 11 throughout the course, it was a slow crawl to Ensenada, causing roughly a quarter of the 461-boat fleet to drop out. As you might imagine, however, most racers still found themselves in a celebratory mood once they finally stepped onto Mexican soil.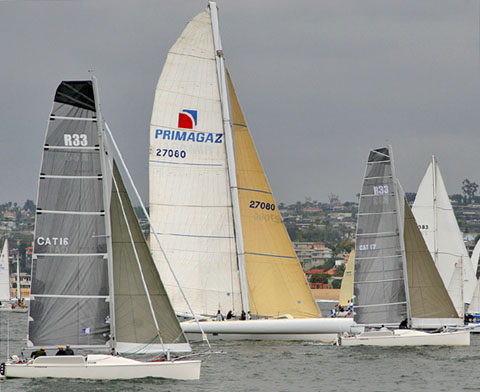 Loe Real dwarfs the multihull fleet.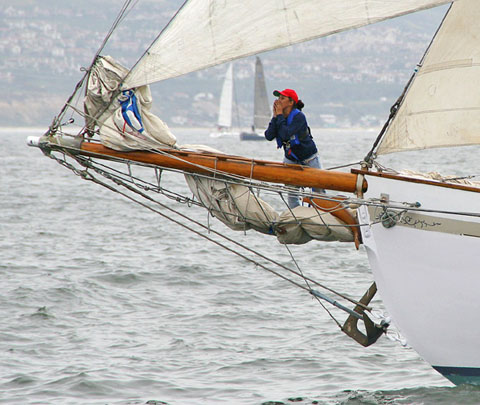 A bow lady on an Ancient Mariner
Photos Rich Roberts