Time to Prep for the 106th Annual Vallejo Race
April 26 - Vallejo
Although the usual indicators of spring's arrival - clear skies and hot, sunny days - have been slow in coming this year, we can say with certainty that spring is, in fact, about to arrive, because it's only 10 days until the Vallejo Race.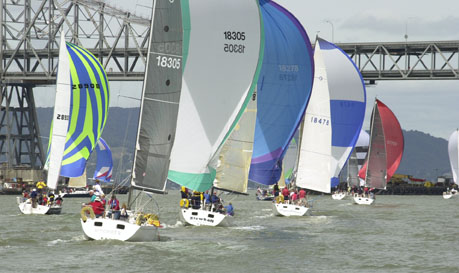 Competitive racing in last year's Express 37 fleet
Photo Latitude/Archives
Slated for May 6 & 7, this annual round-trip contest, from the Central Bay to the Vallejo YC and back, serves as both the YRA season opener and a symbolic beginning to the Bay's prime sailing season. Now celebrating its 106th consecutive year, it will draw roughly 300 boats of all sizes and vintages, in PHRF and one design classes, to form the largest fleet of any Bay Area race - also, one of the largest inshore race fleets in the U.S.
Playing the Bay's tricky tidal currents is always one of the biggest challenges of the race. This year, finding the best route for the trip north will be particularly important, as the starts coincide with a max ebb, which may plague racers all the way to the Mare Island Channel entrance. The good news is that they should see a slack tide, turning to a flood, for the short leg up the Napa River to the clubhouse. All boats will be accommodated for free at VYC, or can rent a slip at nearby Vallejo Municipal Marina (707-648-4370).
So hose down your decks and stock the cooler. The season is about to begin. We'll see you out there! (See www.vyc.org and www.yra.org for details.)