Cruiser Mark Saunders Dies Following Motoryacht Grounding in Mexico
April 24 - Bahia Magdalena, BCS
The cruiser who was killed April 18 following the grounding of the Nordhavn 62 trawler Charlotte B. at the entrance to Mag Bay has been identified as Mark Saunders, 62, who lived aboard the sailboat Blue Suede Sue in Marina Palmira, La Paz, with his wife Sue. The two were crewing aboard the vessel along with Brian Saunders (no relation), Tim Hartwell, and Jonah Marzan on the northbound passage from La Paz to the States.
It still hasn't been revealed why the Charlotte B. ended up on the rocks, as she is a capable and well-equipped vessel. It's believed that the Brian Saunders running or helping run the vessel is the same Brian Saunders who was originally from Sausalito, but for as long as we've known him - 30 years - has been cruising his sailboats and powerboats all over the Pacific.
According to The Baja Insider, the initial reports that Mark Saunders was killed at the time of the impact are wrong. The Insider says they've been told that Saunders suffered a head injury while trying to secure a lifeline to shore so the rest of the crew could exit the vessel. There will be an autopsy.
The Saunders had been living aboard in La Paz since at least Hurricane Marty back in 2003. Mark will be missed by his many friends.
According to the Mexican Navy, the Charlotte B. can be refloated.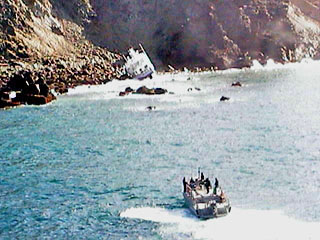 Photos Courtesy Mexican Navy