Photos of the Day
April 21 - Istanbul, Turkey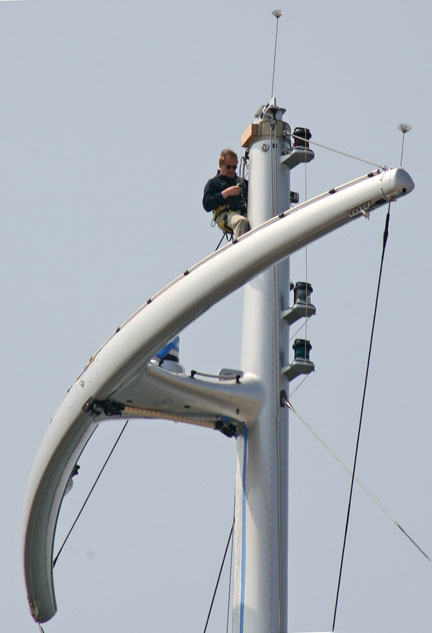 Today's Photo of the Day is of a worker atop one of the three masts on Tom Perkins' 287-ft Maltese Falcon, which was just launched in Istanbul, Turkey. As you'll recall, the Belvedere resident's yacht with the ultra unique rig will be the largest private sailing yacht in the world. To give you a better idea of how big she is, Perkins reports that when anchored at a regatta and showing off with all her dress flags and battle flag with the Falcon logo flying from the foremast, the sail area of the flags alone will exceed - by 50% - the upwind sail area of an America's Cup boat!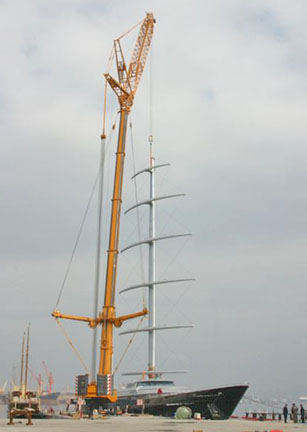 Hey, wait a minute - we've just digitally zoomed in on the Photo of the Day and can tell that's no Turkish worker atop Falcon's mast, but Perkins himself! We've got to hand it to him, being atop such a rig - check out the size of the crane in the second photo - when past the age of 70 it takes more than money, it takes cojones.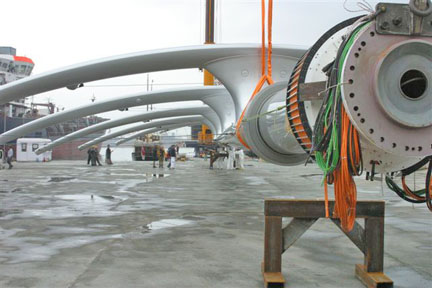 The third photo is of one of Falcon's three unique carbon fiber masts as it lays on the ground. Wild, isn't it? The fourth photo is of the bottom of the rotating mast with all the wiring coming out the bottom.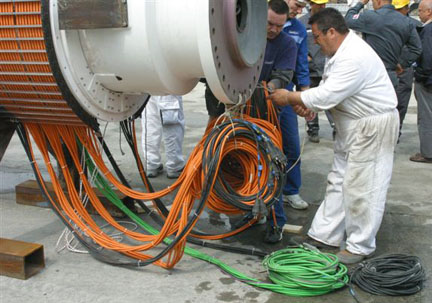 Photos Courtesy Tom Perkins